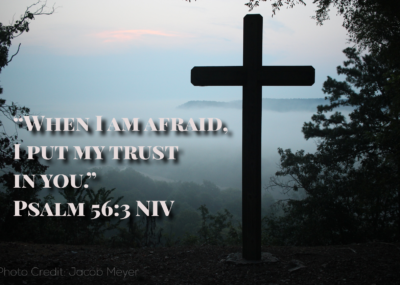 I watched the news last night and was reminded why I don't watch the news. The sadness in my gut, the fear in the front of my mind, the sorrow for families of loved ones lost to senseless tragedy is unbearable. The news came through an alert on my cell phone as we left church yesterday. I grabbed Mr. Fixit's hand and shared. His jaw clenched as he gripped my hand, silently taking it all in. Thinking…no doubt…that it could have been us.
Church. Church is where we're supposed to feel utterly safe. Yesterday's tragedy in Texas was the third mass shooting in the last seventeen months…all of which were among the worst in U.S. history, according to USA Today. I don't know about you, but I look around more these days. I wonder about people I don't know. I ask myself if they could hurt me…or my loved ones. It's taxing. I'm feeling the strain of fear. I don't like this. I don't like worrying. I don't like wondering, not IF, but WHEN will it strike close to home?
There is evil loose in this world and we've been rocked to sleep…complacent in our busyness. In our rush to beat the clock and get the most out of every day. Lists need to be made and checked off. Appointments need to be scheduled and kept. And the enemy doesn't give a darn about any of it. He is only here to seek, kill, and destroy. Not only physically, but mentally and emotionally. He distracts us with the sparklies then swoops in with the spear…or, in this case, an assault rifle.
When bad things happen and you are simultaneously grieving, everything is compounded and spins out of control. It's difficult to remember there IS control in this world. There IS a winner. There IS a great comforter. When I hear and see reports of things like the shooting yesterday in Texas, I am inclined to feel fear. That fear is from the enemy. However, when I turn to God, He reminds me to put my trust in Him. The enemy whispers…"Ahhhh, yes. But will that bring back the twenty plus lost yesterday? What good is your trust if your God can't save His people?"
The enemy will not deter my faith. God doesn't cause these horrific tragedies to occur. It breaks His heart to see his children suffer. What He DOES want is for us to turn to Him for comfort and solace in times of trouble. He wants us to continue to love. We love….because first, He loved us. There will always be senseless tragedies that we can't explain. But…there will come a day when the things of this world will melt away and we will be freed from the shackles of fear and pain.
I pray for the families of the innocents lost. I pray for the victims of this senseless shooting. I pray for the first responders and the citizens of this very small town in Texas where everyone knew everyone else. I pray for the family and friends of the shooter who may have known something was off…may have tried to get him help…may have never dreamed this could have happened. And I pray for the soul of the shooter. He could not possibly have been in his right mind so I pray for any healthcare workers who may have tried to help him but couldn't. I pray for the pastor of the church where the shootings occured and for his wife. They were not at the church yesterday…but their fourteen-year-old daughter was one of those killed.
No, I will not roll over…I will not let satan win by becoming consumed with fear and loathing. I will keep my faith in God and let Him sort the rest out. That being said…I will make my feelings about gun safety known to my elected officials. God wants us to turn to Him…but he needs us to suit up and show up and go into battle, too. ❤️
"When I am afraid, I put my trust in you."
‭‭Psalms‬ ‭56:3‬ ‭ESV‬‬