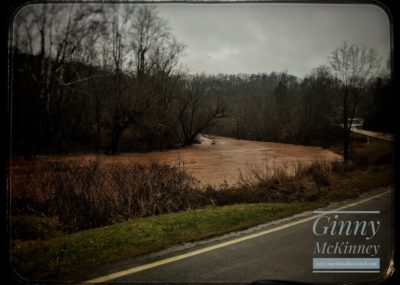 It all started innocently enough. It was going to rain and I was heading to town soon. As I jumped in the shower, I called out to Mr. FixIt.
"Honey…would you mind grabbing my umbrella out of the truck?"
When I got dressed and was heading out the door, I looked around. My umbrella wasn't there. I asked if he had gotten it for me and Mr. FixIt said no. There was an umbrella there by the door. Now, it was a perfectly good umbrella. One that, you know, keeps rain off of you. But I wanted MY umbrella and I felt Mr. FixIt had made a decision for me. I didn't like it.
Silly…that was just plain silly of me. But, I am my mother's daughter and stubborn is my middle name. I hopped out the door and into the rain…sans umbrella.
"I'll show YOU!" I thought as I made a mad dash for the truck. "I don't need your stinky old boy umbrella!"
Ridiculous. I got wet because I got my nose out of joint. And why? Because, somewhere in the far recesses of my mind I equated "Please get my umbrella." with "Please tell me you love me." That is old school thinking right there…something I thought I left behind like…two relationships ago.
It's been a couple of weeks now. And ever since, I've been criticizing Mr. FixIt's every move. Mostly because he's a man and he had surgery and he's SUPPOSED to be taking care of that hand so it will heal properly and he's as stubborn as me and he does things his way and….did I say he was stubborn? I have spent the better part of two weeks with "Don't pick that up!" And "Here…let ME do it!" I think there were eye-rolls involved. All of this was done in an effort to punish him for a perceived slight that was nothing more than something made up in my head. Some unpacked baggage from seasons past that has absolutely nothing to do with him.
Then…the rain started.
It rained…hard. Yesterday morning I awoke to the sounds of the carpet cleaner sucking water up from the rug downstairs. The basement flooded! I jumped up and ran downstairs. And there was my man…emptying one gallon containers of dirty water into the sink…carrying them with two hands, one of which he isn't supposed to lift anything heavier than popcorn.
"Breathe…breathe…don't scold him. He's not a child." My inner voice reasoned with me.
"Did you plug in the sump pump?" I asked.
"No." Shoulders slumped. Voice dejected.
"Are you kidding me?" I asked.
Shoulders slumped more. "Stupid. It was stupid."
I took the carpet cleaner and started that part myself so he wouldn't have to carry the bucket to the sink. Mr. FixIt went about sweeping up water in the room without carpet. He ran the vacuum. We didn't talk much. Then I sent him off on an errand to town.
After he left, I went upstairs and fixed myself a cup of coffee. I sipped it as I ran the carpet cleaner back and forth over the soggy carpet. And I fumed. Then I could see the dejected slump of my sweetheart's shoulders and my heart softened.
"Lord," I said out loud. "I haven't been loving this wonderful man you gave me the way I should. I haven't been loving him the way you love me. And all because he didn't get my umbrella for me!"
I sucked up more water, emptied the bucket, and began again.
"Lord, please give me the heart of a cheerful servant. Let me see all of his good qualities and none of the annoying traits that make us human. Can you do that for me, please?" I asked with sincere earnestness in my voice.
Suddenly, the old hymn "Farther Along" started up in my mind and I began to sing out loud as I vacuumed up bucket after bucket of water.
"Tempted and tried we're oft made to wonder
Why it should be thus all the day long
While there are others living about us
Never molested though in the wrong.
Farther along we'll know all about it
Farther along well understand why
Cheer up my brother, live in the sunshine
We'll understand it all by and by.
When death has come and taken our loved ones
It leaves our home so lonely and drear
Then do we wonder why others prosper
Living so wicked year after year.
When we see Jesus coming in glory
When he comes down from his home in the sky
Then we shall meet him in that bright mansion
We'll understand it all by and by.
Farther along we'll know all about it
Farther along we'll understand why
Cheer up my brother, live in the sunshine
We'll understand it all by and by.
Yes, we'll understand it…all by and by."
I sang and sang and in two verses…maybe three…something happened. Any negative thoughts I had been having dissolved. My heart was soft and open. God had indeed given me the heart of a cheerful servant, just as I had asked.
I went on and worked, happily singing and emptying bucket after bucket of dirty flood water. I worked for about three hours when Mr. FixIt walked in carrying breakfast for me. I went upstairs and gave him a great big hug and an even bigger smile. I thanked him profusely for bringing me a warm breakfast. I hadn't taken time to eat. I patted the seat beside me. He shook his head and said no…he needed to get back to it.
"Please?" I begged. "Just for a minute."
He smiled and sat down.
"Sweetheart, listen…I know you feel stupid for not plugging in the sump pump. But, I could have thought of it, too. And I didn't. We unplugged it to put up the snowman for Christmas and just forgot. We make mistakes…it happens. It wasn't your fault." I put my hand on his knee and looked at him intently. I wanted to make sure he heard me.
Mr. FixIt turned those baby blues to mine and gave me his sweetest smile. And, I felt I'd made it right. This is how you feed a man. You feed his spirit. You feed his soul. You breathe life into him. When you start looking for the bad in your love…that's all you will see. I really, REALLY don't want to go there. Do I get it right all the time? Oh, heck no! I'm human, too. I stumble and forget and let my lower self talk WAY too often. But sometimes I get it right. Sometimes I remember to ask God for help. Yesterday was one of those days. ❤️
"Let us then approach God's throne of grace with confidence, so that we may receive mercy and find grace to help us in our time of need."
‭‭Hebrews‬ ‭4:16‬ ‭NIV‬‬