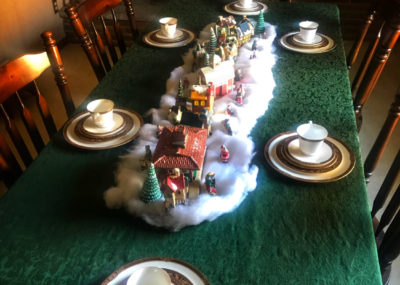 The earth shifted yesterday. Did you feel it? I did. Mr. FixIt is about halfway through his guy getaway to Florida with his buddy and I've been staying at his house…feeding cats, cleaning, decorating, rearranging. It's been great fun.
For those of you who have been following from the beginning, I downsized and got rid of ninety-five percent of my personal belongings when I sold my house in 2014. I brought those things to West Virginia that I could not part with. A friend has been so kind as to let me store them in his basement all this time. I went over a couple of weeks ago and brought a whole truckload over to Mr. FixIt's house. The Christmas decorations were all put out so yesterday, I got into the boxes of decorator items. A pink Fenton hurricane lamp, an antique cast iron rabbit doorstop, some quilts, my raven decoy, a sign that says "Kindness Matters"…these found themselves mingled with Mr. FixIt's memories. Looking at the finished project, they could have all been purchased together for just the same house
I went back into the storage room and lugged the heaviest box to the kitchen. This is where I felt the shift. Do you sense what's happening here? I'm nesting. The lines of "yours" and "mine" are blurring. Nowhere did I feel this as much as when I opened that heavy box. It was filled with china. Precious cargo that has been carted from one side of the country to the other…never seeing the light of day.
One winter day, what seems like a lifetime ago, Mr. Virgo and I were shopping for a tablecloth. When I caught up with him, he was standing in front of a display of china. He was studying something intently so I followed his gaze. When I saw what he was looking at, I gasped out loud. Royal Doulton's "Tennyson". I've never seen anything so beautiful. And, six months later, I got eight place settings for my birthday. I sat down and cried like a little girl. I'd never had anything so…fine.
Those dishes were packed away in 2014 when I sold my house. Yesterday…I carefully unwrapped each one, inspecting them for chips or cracks. They were perfect. I carefully hand washed and dried each piece and set them out on the dining room table in Mr. FixIt's house. I thought about how far I have come in the nearly five years since Mr. Virgo died.
Mr. FixIt and I still have an unconventional relationship. He has his place, I am taking care of the family farm. We stay a little here, a little there. We travel, and we stay apart a little. It works for now.
I am so blessed that Mr. FixIt gets me. He's an angel…tolerant of many things. And he's thrilled to spend whatever time he can with me. The feelings are mutual. ❤️
"Unless the Lord builds the house, the builders labor in vain…"
‭‭Psalm‬ ‭127:1‬ ‭NIV‬‬