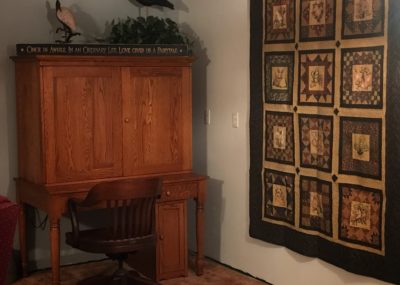 Mr. FixIt came home yesterday! *happy dance* Doggone it…we really miss each other when we are apart. I always say, "But, I still need my space. I have to have time to recharge!" And I do. About four days and I'm good. After that, I'm ready to see that happy smile on Mr. FixIt's face. It is a good thing to miss your love when you're apart. It means you've got it goin' on, right?
I worked like a little bee while he was gone. I did some rearranging and cleaning and decorating and nested like a woman about to deliver. (Thank God THAT'S not happening anymore!) I didn't want to post pictures while he was gone because he reads my posts every day (didn't I say he was sweet?) and I didn't want to ruin the surprise when he walked in the door. I have to say, the look on his face was worth all the work. I literally finished minutes before he pulled into the drive!
Really, the only room we've done any work on has been the family room. Some paint, a new desk and chair, editing what was in there, and adding some of my special things, and it's a whole new room for very little outlay. There's more to do, but it's really lovely now and it reflects US! This picture is the corner where I set up my desk and chair. I love how the desk closes up, hiding any "office clutter". The raven on the top is an old orchard decoy I bought thirty years ago. The heron lamp belongs to Mr. FixIt. The quilt was a wedding gift to Mr. Virgo and me from a friend. It hung in the breakfast nook at my home in Colorado. The sign on the top says "Once in awhile, in an ordinary life, love gives us a fairytale." I bought that to put in my camper as a remembrance of the love I had with Mr. Virgo. And now, it's doing double duty because I get to live another fairytale!
I'll share bits and pieces of my decorating as we go along but I have to maintain Mr. FixIt's privacy as well. Bless his heart, he signed on for a heck of a ride when he asked me out for lunch a year or so ago. He's never said a word about showing up in my posts, but I want to respect his boundaries at the same time.
The house is decorated for Christmas and this week is jam-packed busy with appointments. I hope you are enjoying your early holiday preparations. If you are experiencing your first (or second, or tenth….doesn't matter) holiday without your loved one and you're really missing your person, I hope you are practicing good self care. Reach out here if you need extra support. There are a lot of us here who have been through similar losses and we're here to help as we can. ❤️
"…I found the one my heart loves."
‭‭Song of Songs‬ ‭3:4‬ ‭NIV‬‬