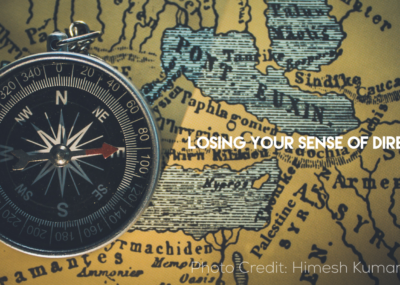 There's no quicker way to lose your inner compass than through the experience of grief. God built us to numb down so we don't experience the loss in one gulp. I remember the first year. I was so numb from the neck up. I didn't fully grasp what had happened to my world until the second year. THAT was the year of pain for me because I "woke up" and he was still gone. I didn't know where to turn. I literally didn't know which end was up. I couldn't make intelligent choices. I couldn't see further than today…maybe even this hour. It was terribly disconcerting to me to feel so out of control. It was terribly comforting to me when you all started writing back with things like "Yes! That's me!" and "OMGosh! You're in my head! How did you know?"
Losing your inner compass is normal in grief. Losing your sense of direction doesn't just come with the loss of a loved one though. It can come with anything that shocks our sensibilities. And I can't think of anything more shocking than the events of the last month. While I was out galavanting around, camping here and there, appearing at public events, being interviewed while flyfishing, sitting around the campfire with friends…events were taking place that were shattering our world and I was largely disconnected save for the occasional notification on my phone when I was in cell range.
Disclaimer: I'm not here to discuss politics. There are many, many sites where that is the theme. This is a safe place where we discuss grief and the things that effect it. That being said…I would be remiss if I sail along singing Kumbaya and not address the horrifying events that have hit us over and over and over the last few weeks.
Devastating hurricanes. Deadly earthquakes. Horrific mass murders. Huge breaches of electronic security. Every week…every day…it's something. Another thing…another horror. It's hard to feel safe in times like this when you aren't grieving. Add the insecurity and emotional turmoil of loss to the mix and it's so easy to lose your way…to lose direction…to lose hope.
Yes, there are political avenues that can and…in my humble opinion…should be implemented to curb events that can be curbed. I am an enigma. I am a diehard liberal Christian and Democrat with a gun. I believe in my right to carry and protect myself, my property, and my loved ones. If I need to hunt to eat, I need a weapon to do so. What I don't need is an assault rifle, let alone forty-three of them, and I certainly don't need one that shoots automatically. I might need a couple hundred rounds of ammo. I don't need ten thousand. I might need some fertilizer for my garden. I don't need enough to blow up a building. I need to protect my little corner of the world from nefarious interlopers. I'm fully aware not everyone agrees on these issues and I'm not here to debate politics or gun control or any "third rail" issue. This is a faith-based blog so I'm going to approach this from my own personal faith-based perspective.
I usually drive in silence. It's my think time. But, occasionally I listen to a book on tape or a talk given by someone on a subject I am interested in. As events unfolded over the last month, I found myself getting upset and angry…a perfectly normal reaction to such chaos. Since losing Mr. Virgo, I've found it helpful to retreat within myself and become quiet and introspective in order to process additional loss. Now that I have Mr. FixIt in my life, I don't have long stretches of time to silently contemplate my feelings, process them, and retrieve my bearings. I felt my fear grow and my frustration build to the point of lashing out at him when he did nothing but be kind and love me. I needed to fix that before it became a problem.
God always brings me what I need to walk through this path. Remember me telling you that we have to walk through fire in this life, but God throws gems down in the flames? We may not recognize the meaning of a particular gem, but we tuck it away because somewhere down the line, we'll understand. When I was in Colorado, I went to a used book store looking for books on tape for the long drives I take traveling with TOW-Wanda. This time I found several presentations by such notables as Brené Brown, Pema Chodrin, and Joyce Meyers. I tucked them in the truck but didn't listen to them on the trip home because Mr. FixIt was with me.
Last week I traveled up to Beaver Creek State Park and found the four hour block of time to listen to Pema Chodrin's "Don't Bite the Hook: Finding Freedom from Anger, Resentment, and Other Destructive Emotions". Her basic premise boils down to finding compassion for the perpetrator. She spends the better part of three and a half hours explaining how to fight the addiction of anger and replace it with patience and compassion. Anger sits in the pit of our stomach. It's uncomfortable and we lash out to release those pent up feelings. But, what if we allow ourselves to sit with that discomfort, recognize it as a temporary feeling, look at the person pissing us off and feel compassion? If that's too hard, then at least just say…"OK, this person is pissing me off. I'm not biting that hook." There is a difference between suppressing anger and diffusing it. Suppression will just place it in a pressure cooker and it becomes self-destructive. Diffusing it dissipates the energy and converts it into something self-soothing.
How does this relate to the current events in the world? Well, environmentally, these storms are getting more powerful, more frequent, and more destructive. As an environmentalist, one can get angry at politicians who refuse to believe in climate change. As one who believes this is a predictable cycle of nature, one can get angry at the "tree huggers" for leading the charge with "the sky is falling!" Earthquakes? Environmentalists are angry with the oil and gas industry for fracking and causing instability beneath the earths crust. Others are angry at such rhetoric saying the earth's crust moves…deal with it. Mass shootings? The NRA will give you their guns when you pry them out of their cold, dead fingers as Charlton Heston so eloquently put it. Gun control advocates are angry that this just keeps happening over and over and over and nothing ever changes.
The common denominator in all of this is anger. Righteous indignation. Me against them. No one ever resolves conflict with increased conflict. The divisive nature prevalent in today's world does nothing to diffuse anger. As a matter of fact, it seems its only point is to produce more anger and conflict. This is the work of the enemy. This is where my faith comes in. This battle has been fought for centuries and my personal belief is…the good guy wins in the end. My personal belief is…that which lives within me is more powerful than that which lives in the world. Lashing out at Mr. FixIt because I'm harboring anger over world events is counterproductive. So, how do I resolve that inner conflict? Through compassion.
How do we live out the compassion of Christ in such a dark time in this world? Turning to the Master Teacher, we can cry out for Him to teach us compassion. We can read about the ways Christ showed compassion to others…even his enemies. He touched those who were sick. Even the outcast…the untouchables with leprosy. He sought them out and ministered to them and healed them with just a touch. Race, religion, social or economic status…nothing kept Christ from touching the lives of others with love and tenderness. We can read about Jesus' tears for the fallen. How He wept for those who refused to hear His teachings. How he asked His Heavenly Father to forgive those who crucified Him for they knew not what they were doing. That in and of itself is the ultimate display of compassion. The motivation behind all of Christ's teachings throughout the New Testament is love and compassion.
So, how do you show compassion for someone who stands in a hotel room on the 32nd floor of a busy hotel and calmly executes 59 innocent people, wounds nearly 500, and changes the lives of thousand more…forever? For me, it comes from the realization that one does not do something like that unless they are not in their right mind. There is such evil in the world. Satan whispers into the lives and hearts of vulnerable people and leads them to do unimaginable, unspeakable things. My response is to pour out more love…to try to tip the scales of the world toward goodness and light. Not with a Pollyannaesque naïveté, but with the pure, genuine love and compassion expemplified by Jesus.
It's a scary world. I saw Mr. FixIt's first little greatgrandchild this week. I held this tiny, perfect little human in my hands and prayed hard that God would keep her safe in this great big place. It hits hard when a new life is placed in your hands. In the end, the left wing and the right wing belong to the same bird. We really are in this together. There is one race…the human race…and if we want to keep going, we are going to have to find a way to come together, to get along.
Ok, we went to church there…but, in my humble opinion…this world needs more light. For me, it is through Christ, who strengthens me. For others, it may be different. But by whatever means available, the answer to everything is love and compassion. ❤️
"Therefore, as God's chosen people, holy and dearly loved, clothe yourselves with compassion, kindness, humility, gentleness and patience. Bear with each other and forgive one another if any of you has a grievance against someone. Forgive as the Lord forgave you. And over all these virtues put on love, which binds them all together in perfect unity."
‭‭Colossians‬ ‭3:12-14‬ ‭NIV‬‬