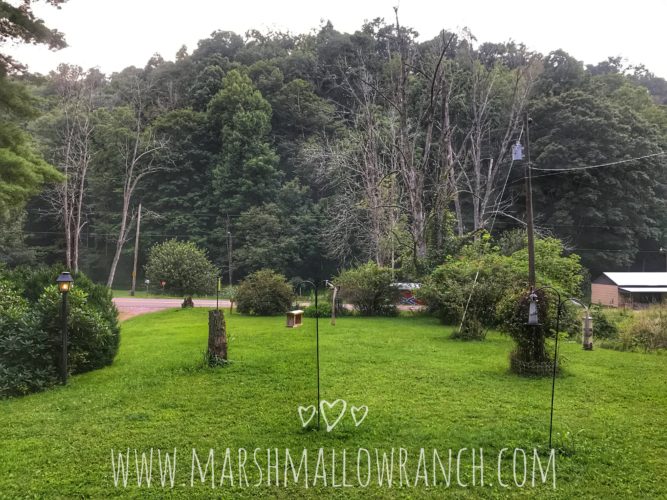 I fit here. West Virginia is just the right size and shape to accommodate all that is…me! We were sitting on the porch last night contemplating the "traffic" up this little country lane. Maybe a dozen or so cars and trucks have come and gone. The light turned that beautiful golden of August, giving the tired green of the trees a gilding that brings a little life back in their weary veins. Old Mama Kitty munched out on that bit of pork chop I surreptitiously dropped for her to try to keep her from climbing Mr. FixIt's leg like a young sapling, disturbing our Friday "date night" dinner.
I love to cook. I didn't for a long time, but cooking for an appreciative audience is delightful. Last night's fare was pork chops, sauerkraut fried a golden brown, mashed potatoes, fresh corn on the cob, and home grown tomatoes. Oh my…be still my heart. Mr. FixIt rose to clear the table and rid up the dishes while I settled in to write this post. Norah Jones is crooning softly in the background. The air is still. A jet flies overhead, whisking happy travelers off to another place. Crickets, katydids, locusts, and tree frogs serenade us as we each settle in for our own interests for a bit.
We are a perfect fit. A hand in glove relationship. Mr. FixIt comes out from cleaning my kitchen (seriously, is there anything sexier than a man cleaning a kitchen???) and taps me on the shoulder. He hands me a cherry flavored Tootsie Roll pop. I give him my brightest smile. He knows. He knows what I love. He listens. He cares.
He got here about fifteen minutes before I woke up from my nap. He came in quietly, picked up the paper and settled into the rocker to read and wait for me to wake up. He would have waited much longer than fifteen minutes. He would never have disturbed my rest. When I got up and saw him in my dining room, I smiled and gave him a big kiss. I padded into the kitchen for a cold drink, and there…sitting in a jug of water…we're two dozen beautiful copper-colored roses. Hand in glove. This man gets me.
Learning to love and appreciate this man has not taken anything away from my feelings for Mr. Virgo. If anything, it has kept that love alive and in the forefront in many ways. When Mr. FixIt does or says something sweet and loving, I smile knowing how Mr. Virgo would love the way this man treats "his best girl". Not by way of comparison. Mr. FixIt is his own man and I love him for his own merits. But, two dozen roses? Letting me wake on my own? Doing the dishes? Bringing me a cherry flavored lollipop? Oh yes…this man fits me and I am ever so grateful for the honor of loving, and being loved, again.
I am home…and it isn't all about the house, the land, the state, or even the man, really. No…it's all about living comfortably in my skin and choosing the right guy to share it with. Hand in glove. Peace. ❤️
"A new commandment I give to you, that you love one another: just as I have loved you, you also are to love one another."
‭‭John‬ ‭13:34‬ ‭ESV‬‬