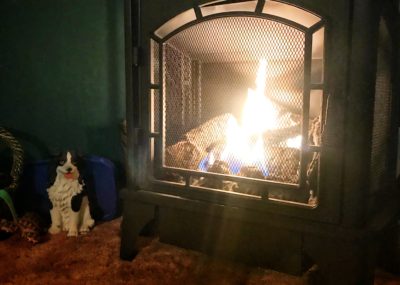 I've always loved to sit in front of a nice fire with a cup of tea, a comforter, and a stack of magazines. I haven't had a stove or fireplace to sit in front of since my youngest was a baby. She's twenty-seven. We are fortunate to have free gas at the farm so we have a couple ventless gas stoves to ward off the chill in the far reaches of the house. But they don't look like a wood stove and are situated where sitting near them is impossible. I was delighted when Mr. FixIt showed me his house for the first time. This gas stove sits in the family room and is perfect for getting cozy on a cold, wet November afternoon.
And it's a good thing we're getting cozy today because…we are about to embark on the first real test of our relationship. Painting a room together. We picked up an array of paint samples at the hardware store the other day and sat down with them yesterday. Or rather…I did while Mr. FixIt finished up something he was working on. I looked through the color swatches, booklets, and magazines and all I felt was frustration. You can ask Daughter #1…I'm horrible at choosing colors. I have it in my head what I want but putting it down as a plan that makes any sense eludes me. I spent an inordinate amount of time cross-stitching a quilt pattern for one of my BFF's one year for Christmas. I had it framed and when it was done…well, let's just say it looked lovely in her downstairs guest bathroom. I have a horrible time matching colors. My daughter, however, can pick out tea towels to match the accent wall in her kitchen six months after painting it. I couldn't tell you if it was green or yellow. (It was the color of red grapes, actually. I mean, what IS that?) Anyway, I finally found a picture that showed what I was looking for just as Mr. FixIt walked into the room.
"How's it going, my baby?"
Breathe. Act like you know what you're doing.
"Great! What do you think of this? We can do three walls in this color, one accent wall in this darker shade, and the trim in white!"
I held my breath.
"I like it!"
Really? That was easy. Listen, this may very well actually BE the world's most perfect man!
We went to town and bought the paint and some supplies we needed. Now comes the challenge of actually painting…together. I'll keep you apprised how that goes. In the meantime, I sat here in front of this cozy fire with a Rosemary Chicken in the oven, a definite chill in the air, browsing through a stack of my favorite magazines, a nice cup of tea at hand. Honestly, it doesn't get much better than that!
Mr. Virgo's Rosemary Chicken
Pick out a nice, fat roasting hen. Remove giblets and set to simmer for gravy, if you're into that sort of thing. Personally, I think innards go in the trash, NOT in my gravy. Rinse the chicken, inside and out and place in a baking dish. Wipe the chicken with extra virgin olive oil. Season with fresh ground pepper, salt, rustic herbs, garlic and crushed rosemary. Place uncovered in a preheated 350 degree oven and bake until golden brown…about an hour and a half to two hours. The leg should be squeezable and when a knife is stuck in between the thigh and breast, the juices should run clear. That's it, easy peasy. Mr. Virgo and I had this every Sunday. I made it for Mr. FixIt last night for the first time and it was a big hit. If you need a quicker meal, prepare chicken thighs in the same manner but bake 30-45 minutes. Bon Appetite! ❤️
"May your unfailing love be my comfort, according to your promise to your servant."
‭‭Psalm‬ ‭119:76‬ ‭NIV‬‬