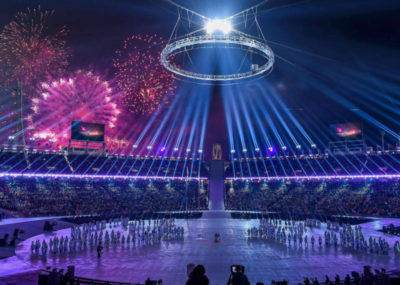 I have always loved the Olympics. The games always capture the imagination of the world. They are often fraught with shades of politics and even North and South Korea leaders are seated beside each other to witness the opening ceremonies. Two hundred forty two athletes are gathered to vie for the gold and bring home the bragging rights of being the best in the world.
I've always enjoyed figure skating, downhill skiing, ski jumping, the halfpipe. Shaun White is back for his fourth Olympics. I cannot see him without picturing a young seventeen year old redhead holding court in the corner of the ballroom at the Hotel Jerome in Aspen several years ago. I was at the Aspen Sojourner Magazine's holiday party after Mr. Virgo snuck me in. He was the Food and Beverage Director. Several celebrities were there including Heidi Klum and Seal, Paris Hilton, Justin Timberlake, and Mariah Carey. Shaun White was obviously reveling in the moment, surrounded by star struck snowboarders. Mr. Virgo walked up and Shaun said, "Dude! You want an autograph?" Mr. Virgo laughed and said, "Dude! I want your beer. You're under age!" At which point, a contrite young man handed over the bottle. It was actually quite funny.
It seems like I've always watched the Olympics every two years…Winter and Summer. The first televised games were in 1960 but we didn't get our first TV until the following year. My older granddaughter is shooting for the 2020 Summer Olympics in swimming so maybe someday I'll get to go and cheer her on.
This is a time of competition as well as unity. It is always heartwarming to watch the athletes come in and march in the parade around a packed colosseum, carrying their flags and waving at the crowds. It's always interesting to hear the backgrounds of the athletes and their countries. I'm looking forward to watching some of the excitement. I pray it all goes well and everyone is safe. ❤
"Similarly, anyone who competes as an athlete does not receive the victor's crown except by competing according to the rules."
‭‭2 Timothy‬ ‭2:5‬ ‭NIV‬‬