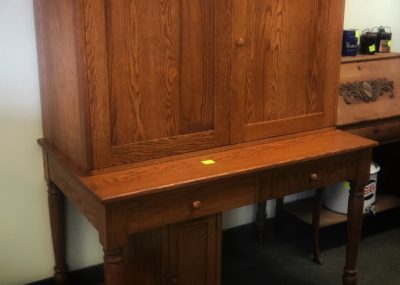 OMGosh! I broke my absolute cardinal rule yesterday and…gasp…bought a piece of furniture! I know, I know…you all were with me when I downsized and I absolutely SWORE I would never accumulate "stuff" again. BUT…things are different now. A lot different. I'm not living in a camper, for one thing. For the last three years, my desktop computer has been riding in my camper, under the bed, in an airtight plastic storage tub. There have been numerous times I've needed to use it and I have to go out, prop up the bed, haul it out, and put it away when I'm done. Ok, ok…I'm rationalizing. Here's what happened.
I had to run to town yesterday for an appointment and on my way back to the house, I saw a sign that said "Grand Opening!" It was a consignment store. Who can pass up a good consignment store, right? My truck pulled in, all on its own. I had no choice but to follow. I browsed around and they had some beautiful pieces of furniture. I was first attracted to an old rolltop desk. It was small, and a little beat up. Mr. FixIt has a nice rolltop desk…much nicer than this one. I went on and looked at other things. When I came back around, I asked the clerk about the desk. He said, "You know, if it were me and I had the room, I'd be looking at this one. Much better piece of furniture." He opened the doors and the drawers and showed me the solid oak construction. The top opens and there's a place for the monitor, a drawer for the keyboard, and a separate cabinet for the CPU. It is in two pieces to make it easier to transport. The selling point for me was the price. The piece originally sold for $1800. It had been priced for sale in the consignment shop for $500…a decent price for a sold piece of furniture of this quality. However, it was marked down to $250. So, I own a piece of furniture.
That's two pieces, actually. I also own the jelly cupboard in the kitchen at the farm. Oh, and a recliner. Hmmmmm….I am accumulating. Not excessively, but still. It doesn't feel as scary to put down some roots as it did in the first few years after Mr. Virgo died. I didn't want to feel a sense of permanence then. Permanence meant real loss when things headed south. I needed to feel untethered…free. I didn't have the strength to be needed…even by inanimate objects. As long as it fit in my truck and my camper, I was just fine. And like I said, things are different now. A lot of healing has occurred. Time has passed. A relationship has been established. A home is being created. Two homes, actually.
Mr. FixIt lives exactly twenty-two miles from the farm. He lives on five acres out in the country. He generously shares his space with me. Mi casa es su casa. My house is your house. He is just as comfortable at the farm as I am at his place. And neither of us are giving up our space. We stay a little here, a little there, and then have our own space to retreat to when we need to recharge. It's the perfect arrangement for the time being. I became very independent after losing Mr. Virgo. While I missed him, certainly…I also came to appreciate the stillness of my own breath. Mr. FixIt and I both like our alone time. Although…truth be told…whenever we are apart, we miss each other terribly. This whole relationship thing is growing on both of us. I suppose, for me, there is still an element of fear deep down inside. That "What if something happened to him" thing. I know I can't live my life in fear. I won't. But, there's something to be said for taking your time in any given situation. After all, there's no biological time clock ticking here. There's absolutely nothing to be in a hurry over.
Mr. FixIt and I have been together for a year now. I was thinking about this yesterday. I'm in a really good place now, emotionally. I haven't had a "bad night" in a really long time. My anxiety level is at an all time low. I'm comfortable in my own skin. I'm happy. I am blessed. And…I am grateful. God has answered so many prayers. I think I'm just going to go along for the ride and enjoy…everything. Life is so sweet! ❤️
"Love is patient and kind; love does not envy or boast; it is not arrogant or rude. It does not insist on its own way; it is not irritable or resentful; it does not rejoice at wrongdoing, but rejoices with the truth. Love bears all things, believes all things, hopes all things, endures all things. Love never ends. As for prophecies, they will pass away; as for tongues, they will cease; as for knowledge, it will pass away. For we know in part and we prophesy in part, but when the perfect comes, the partial will pass away."
‭‭1 Corinthians‬ ‭13:4-10‬ ‭ESV‬‬