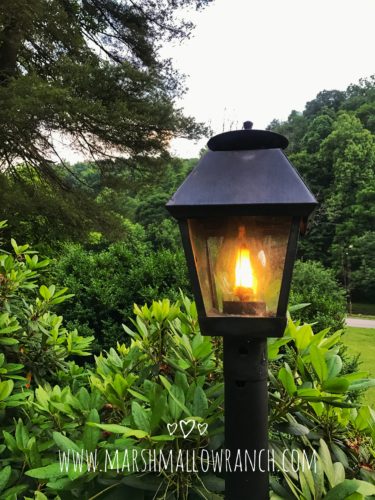 Is there anything more wonderful than the glow of the gas light in the yard to welcome you home? This light has burned continuously since I was a little girl. It's had many mates replaced and several panes of glass. It's had a coat or two of flat black paint and it can no longer be adjusted for the rust, but it's the beacon that greets me when I come up the driveway here at the farm
I ran errands this morning…mail, groceries, produce stand, coffee. Then made a beeline home. All the kitties came to greet me. Old Mama Kitty trembled at the sound of my voice. Boy cat sat a respectable distance and gave me his best throaty hello. Kitty Boy skirted me and settled at the barn with a mouse or some such critter.
I called the neighbors to let them know I was home. They had informed me several days ago not to be too surprised when I come home and find four new kittens. What??? It seems they hitch-hiked up in the car and stayed. I think the mama took one back because it was back at their house down the road. That left three. I managed to catch two of them and delivered them back to their mama. I just didn't have it in me to try to catch the last one. I'll try today.
It rained an extraordinary amount here this summer and many of the surfaces in the house are covered in a light mold and mildew. I need to get after it with bleach water. I also need a dehumidifier. I put the groceries away, fed the cats, sorted the mail, cleaned the fridge, and just about emptied the truck. I am spent. I don't know if it's age, or if it's after effects of the concussion, or all the trouble with the camper, but this trip was a rough one for me…even with the help of Mr. FixIt. Thank God he was along. It was fun. I loved seeing the kids and I miss everyone already. But I swear…I'm going to sleep for a week!
If you don't hear from me for a bit, I'm laying low and catching my breath. I just wanted you to know I'm home…really home! God protected us and kept us safe and we are so grateful! ❤️
""Return home and tell how much God has done for you." So the man went away and told all over town how much Jesus had done for him."
‭‭Luke‬ ‭8:39‬ ‭NIV‬‬