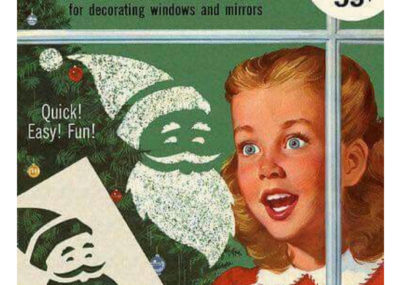 I don't know about you, but I'm scared of all this threatening talk between the US and North Korea. I need memories of my childhood to focus on so I can sleep at night. So here goes…
I love, love, LOVE Pinterest! Think of anything….some obscure thing from your childhood…and you can just about guarantee someone has posted a picture of it. Like…Glass Wax Window Stencils! I remember the can, the color, the smell, how it felt when it dried on your fingers. I could hardly wait for Christmas so we could get a new set.
And spray snow in a can…remember that? Oh, that stuff was wicked awful. Who knows what kind of chemicals were in that stuff? We would spray it around the bottom of the windows to look like drifted snow. And I would spray it on a mirror that mom set on a table then I'd set up ice skaters and make it look like they were skating on a pond.
Ribbon candy? And those straw-like candies that were crunchy on the outside and had some sort of chocolate on the inside. And Christmas morning we would have an orange in our stocking. Or better yet, a couple of tangerines. And a candy cane. And a handful of nuts, in their shells. And a Lifesaver Storybook! We didn't have much money when I was growing up, but we had enough for a stocking and a couple of toys. I remember the year I was ten…I got a bike! Somewhere there's a picture of me in my baby doll pajamas, my finger over my lips and my eyes open wide as I caught sight of it! It was blue. One speed. I think the metal label said JC Higgins on it.
There were a lot of Christmas memories that I used to drag around like a load of bricks…usually surrounding my dad and alcohol. But now? Since I lost Mr. Virgo, I've decided to rewrite history and just remember the good parts. There was almost always a doll. A game that my brother and I had to share. Clothes. (Insert eye roll here) I begged Mom to wrap every single thing so it felt like I got more stuff. (See? I learned early about accumulating "stuff"!)
The paper was thin and printed with what are now vintage Santas or Rudolph or stripes or metallic foils. There was flat satin ribbon when we were a little more flush. Usually it was curling ribbon and a bag of cheap bows. And gift tags! There were little gift tags made out of card stock with "Season's Greetings" and "Silent Night" printed in glitter with a space for "To:" and "From:".
Christmas has always been my favorite holiday. Christmas and my birthday. Some of my very best memories totally surround those two days. What are some of your best Christmas memories? Did you go caroling and sledding? Did the neighbors invite you in for hot cocoa with a big melty marshmallow in it? Did you build snowmen and forts for epic snowball fights? Let's share some warm fuzzies and forget about the scary stuff for a little while. ❤️
"Therefore, whoever takes the lowly position of this child is the greatest in the kingdom of heaven. And whoever welcomes one such child in my name welcomes me."
‭‭Matthew‬ ‭18:4-5‬ ‭NIV‬‬