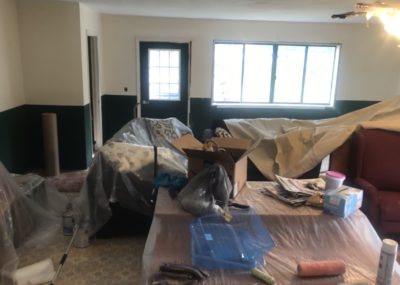 This is the part I hate about home improvement projects…living through the mess till it gets finished. I have done this countless times in my life. You can't avoid it if you are a homeowner. I did this and then some when my mom died and I prepared to sell her house. She wouldn't let me do anything to her house when she was living because it meant she would have to throw something away. I completely redid the kitchen and bathroom, painted the whole house, and refinished the hardwood floors…all by myself. It's ever so much more fun to do a project with someone…especially if you work well together as a team. We took yesterday off, went to church, then out to the farm to feed cats. And today we are back at it.
As I sat down to write this post, a notification came through on my phone. There are nearly a hundred women from Sisters on the Fly down in Port Aransas doing hurricane relief. The very day the hurricane hit, the call went out on the Sisters on the Fly Facebook page. Someone picked up the ball and started The Sister Corps. They immediately started recruiting women to go south to help with the cleanup efforts as they knew help would be needed beyond the immediacy of the storm. The Sister Corps has been posting pictures of the mounds of trash out in front of the houses where they are working. Homes are bare to the studs where drywall must be replaced because of flooding. Bathrooms and kitchens are being replaced. Carpeting and ruined flooring has been ripped out. It makes me look at this room with a whole new vision.
We are freshening this room…not salvaging it. We are making a choice to change outdated colors and carpeting, not replacing everything because of a natural disaster. Again, God humbles me when I get too "uppity" for my own good. This is a joy…a blessing. We are wealthy beyond our wildest dreams. We are rich in love and the bountiful blessings of not one, but two homes to live in. We have the money to buy a few gallons of paint without having to go through insurance adjusters and contractors and estimates to do so. I will look at this project with new eyes today when I am privileged to pick up a paint brush and know I have a comfortable bed to sleep in tonight. I know where my family is sleeping tonight. I know we have food in the pantry and a little money in the bank.
I want to share with you another way God works in my life. The other day, I received notice I needed to make a change in my insurance. I've been on the healthcare.gov website and on the phone a few times choosing New coverage. It's an affordable policy, but still…money I wasn't necessarily planning on spending. As I looked through the choices, I prayed. "God, show me what I need. I'll worry about filling out the paperwork…you worry about how I'll afford what I need." God always, always provides. You want to know how I know this? Because, yesterday after church, Mr. Fixit and I went to the post office to pick up the mail and there were, not one but…TWO checks in there. Not enough to pay for a full month of insurance. But enough to cover my tithe for the next three months.
This is how God works. He has countless, countless blessings for YOU. They have your name on them…specifically. And he so wants to give them to you. But…he waits for you to ask for them. Don't come out of the chute asking for those blessings directly, either. Come into the conversation thanking Him for the blessings he has already showered on you. An attitude of gratitude is a fair way to start a prayer when you are asking for more.
Thank you, God…for the unexpected bounty you have blessed me with. I am so grateful. ❤️
"Bring the whole tithe into the storehouse, that there may be food in my house. Test me in this," says the Lord Almighty, "and see if I will not throw open the floodgates of heaven and pour out so much blessing that there will not be room enough to store it."
‭‭Malachi‬ ‭3:10‬ ‭NIV‬‬