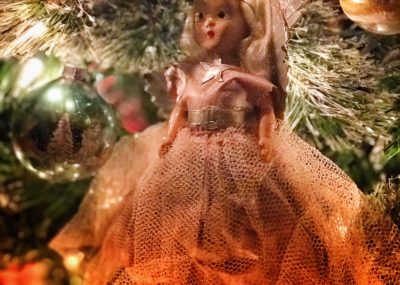 You've all seen that spindly little Christmas tree Charlie Brown had, right? Basically a stick with some twigs branching off. As far back as I can remember, that was the tree out at the farm. My Uncle Bob was a simple man. When he was told to go cut down a pine tree for Christmas, he did just that. And being a practical man, he brought back one that was easy to carry and would not take long to decorate. He was the smartest of the bunch, turns out.
Grandma didn't have a lot of ornaments. I remember some of those made by Shiny Bright. There was a very old hand blown Santa that my fat baby fingers accidentally broke one year. *sigh* And, there was an angel that went on the top of the tree. Her dress was made of vinyl with a net skirt over it. Her upper torso, arms, and head were like a doll made of hard plastic. Her hair was spun glass. And her wings were silver pressed cardboard. Somehow, I managed to acquire that angel. I suppose because I'm the oldest grand daughter and got married first, I don't know. But that angel has been with me forever. She is too fragile to put on top of a tree…I'm afraid the cardboard tube that slips over a branch might break. So, she gets tucked in a place of prominence on the front of the tree…up high enough to avoid any encounters with two or four-legged children.
We always had a big, fat tree at home that my dad bought at a lot. I remember the excitement of driving around looking at Christmas lights then stopping at the lot to pick out our tree. I wore a woolen coat buttoned up to my neck, someone's hand-me-down, I'm sure. I had a blue velvet hat that tied under my chin with blue satin ties. And, hanging on one side we're two white balls made of real rabbit fur. I remember shaking my head back and forth to feel them bounce around. I wore that hat till it literally disintegrated. I wore rubber boots that fit over my shoes and buckles with an elastic string over a button.
Dad would walk us up and down the aisles to choose the perfect tree…i.e. the cheapest without too many holes in it. Once the price was negotiated, an attendant would help Dad carry the tree to the Oldsmobile and strap it to the top with sisal rope. Once we got it home, there was trimming to be done before we could take it in the house. We had strings of lights with big reflectors that went on before screwing the big bulb in. This was a safety feature that kept the needles from touching the hot bulb and catching fire. And many of the ornaments hanging on my tree that I so carefully preserve were placed on those big, fat trees at the house on 55th Street.
I remember feeling so sorry for Grandma and her skinny little Charlie Brown tree. Now I look back and appreciate the simplicity with a fervor. I use an artificial tree now. The first one I've had since Mr. Virgo died. I opted for a slender one. I thought I'd be putting it in front of the window at the farm. Instead, it's over here at Mr. FixIt's. I never would have dreamed. This is the fifth Christmas without Mr. Virgo. To have found this new love and new joy and renewed zest for life is something I am profoundly grateful for.
It's the simple things I crave now. Things held by loved ones long gone. Gentle, loving companionship. Soft music. A warm fire. Good food. And a loving God that made all this possible for me. I am richly blessed. ❤️
"May the God of hope fill you with all joy and peace as you trust in him, so that you may overflow with hope by the power of the Holy Spirit."
‭‭Romans‬ ‭15:13‬ ‭NIV‬‬