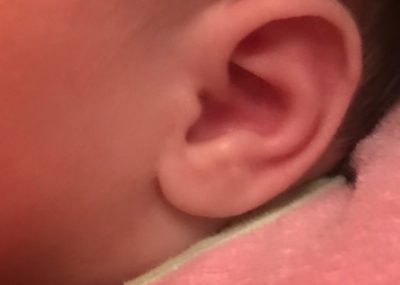 It seems like yesterday when I traced the delicate shell of my first baby's ear. She was so tiny at just over five pounds. I was terrified I would break her. That was forty-three years ago. Twenty-seven years ago, I did the same thing with my second daughter. Thirteen years have passed since my first grandchild was in my arms and ten since I cradled her little sister. I thought it would be a long time before I got to hold a little baby again. But, along with Mr. FixIt came a brand new great grandchild and I'm in love all over again!
Oh, this makes me ache for Big and Little…my sweet grand daughters in Colorado. I won't get to see them till Christmastime. They are growing so fast…and without me. This is the hard part…the only downside…of living in West Virginia. Being so far away from my family. I wish I could tie a rope around Colorado and a rope around West Virginia and pull them closer together. My heart has two homes and sometimes it really hurts when I'm away from those I love. Holding this little sweet thing (who I am SURE is going to call me Gigi!) brings me all kinds of feels.
We had a first yesterday. Our first dinner party together was quite successful. I used that electric pressure cooker again. This time I cooked a pork roast. Mr. Virgo only wanted pork roasts actually ROASTED in the over with EVO, garlic salt and pepper. I seared this roast in a hot skillet then placed it on a bed of sliced onions in the bottom of that pressure cooker, sprinkled it with fresh ground salt, pepper, rustic herbs and garlic and two cups of water. I cooked it on high for 45 minutes then turned it off and let the pressure come down on its own. I opened it and checked the meat and it wasn't quite tender enough. I cooked it another 45 minutes (it was a big roast) and released the pressure. I let the roast rest in its juices while I made mashed potatoes, fried sauerkraut, green beans, fried apples and hot rolls. When the guests arrived, I tore off chunks of the roast with a fork and served it with the rest of the fixings on the side. It was wonderful and we all had a fun evening filled with fellowship and laughter.
In case you forgot, daylight saving time is over. Turn your clocks back an hour. Have a blessed Sunday, dear ones. ❤️
"Beloved, we are God's children now, and what we will be has not yet appeared; but we know that when he appears we shall be like him, because we shall see him as he is."
‭‭1 John‬ ‭3:2‬ ‭ESV‬‬