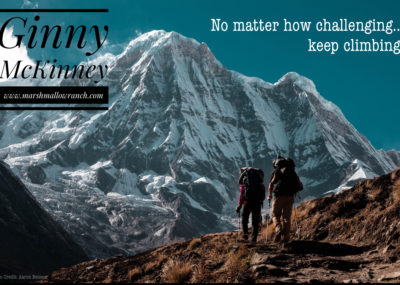 Occasionally I get a comment on my blog from someone so fresh on this grief journey that they are lost. They don't know where to turn or what to do next. They are obviously in a great deal of pain and my heart breaks for them because…I know. I've been there. Many of us have. I respond to every single comment on my blog. Most often it's with a ❤️, just to let you know I have seen your comment. Occasionally, I write something back. On this particular occasion, I wrote a whole essay as my response. After giving it some thought, I decided it was time again to revisit "How do you survive this?"
My reader lost her husband unexpectedly in early November. He was minding his own business, driving to work, when he was struck head-on by an impaired driver and was killed. Her world was shattered. The future she had planned with her husband was gone. To add insult to injury, her husband's death was followed in rapid succession by Thanksgiving, his birthday, an important graduation, Christmas, and New Years. All without him. Her question? How do you cope with this?
Here is my response:
First, let me tell you my heart is with you, dear one. You are SO fresh on this journey and it's so difficult. Having all those firsts, one after another when the ink is hardly dry must be unbearable. I can't tell you how to grieve because it's such a personal thing. I can tell you how I dealt with things and hopefully it will help you as well. If you haven't yet, do go to Marshmallow Ranch on Facebook and see if you can scroll back to the early days of my blog. You will find much more relatable material there. I started the blog in January 2013 as a way to promote jewelry I was making. Then Mr. Virgo died in March. That's when the blog morphed into an online grief journal. I know that's a lot of material to sort through, but it just might help.
At your stage of this journey, let me say this…there is no rule book. But here's a list of ways to cope.
1. Don't let anyone say you should do it this way or you shouldn't do it that way. Do it your way.
2. You will make mistakes. Don't be too hard on yourself when you do.
3. Be careful…extra careful with your money.
4. Get plenty of rest, eat right, and exercise as you can.
5. Avoid drugs and alcohol…they are nothing but bandaids that put off the hurt. That goes for new relationships. I know, I know. I thought that was crazy too till I got involved with someone just five months after my beloved died. I just wanted the pain to go away but when I pulled that bandage off, dear God…it was worse.
6. Feel your feelings. Cry when you need to. Laugh when you can.
7. There's an actual condition called grief brain. You can't remember squat and it may be scary as the dickens. Don't worry…it does get better in time. You never go back to baseline, but you do get better.
8. You won't be in this fog forever and eventually you will feel joy. Don't feel guilty for that.
9. I found the services of a grief counselor to be extremely helpful. I had PTSD from watching the CPR for hours so I had EMDR treatments which helped immensely.
Remember…you don't "get over" this…you get through it. But, you will never be the same. Let me repeat that…you will never be the same. Don't even try to find the old you. She is gone. Once a pickle, always a pickle…you don't get to go back to being a fresh little cucumber again. Whether you become a sour or sweet pickle is largely up to you. Do NOT give up hope of finding a good life, though. You can…and you will…with determination and perseverance.
I realized early on that he died, I did not. I owed it to his memory to live…actually LIVE the days my husband was not given. Since we were looking at campers when he died, I went out and bought one and joined Sisters on the Fly…a women's adventure group. I also belong to Girl Campers. These are all empowering groups that helped me become brave and strong.
One last word of caution. It's ok to mattress surf once in a while but don't live there. Get up every day, splash water on your face, brush your teeth, and get dressed. Make your bed. You're not as likely to climb back in it if it's made. Scrub your kitchen sink. A clean sink sets the tone for the day in my book. Even if you just move from the bed to the couch…you've moved. Keep moving. One step, two steps. Eventually you will be able to take a deep breath again. (Oh, that's also a thing. Physiologically, grief causes you to sigh a lot which makes you try to take deep breaths and it's difficult. You almost feel like you can't get a deep enough breath. Unless you are passing out or have chest pain or prolonged irregular heartbeat or cold, clammy sweat, its nothing to be worried about. Always ask your healthcare professional if you are concerned about your health. However…this sensation disappears after some time.)
Tincture of time. That's how I dealt with the loss of my husband. Move forward…and pray, a lot. You may not feel Him there, but God is with your every step. He holds you in the palm of His hand and He weeps for your pain. Let Him wrap His feathers around you and take your rest there. Come back here anytime you need some support. You may send me private messages at any time and I will get back to you as soon as I can. Prayers for comfort and strength, dear one. This is a club we didn't ask to join. You will learn how to perform magic like tap dancing around that husband-sized hole in your heart without falling in…every…damn…time.
Grief comes in waves. At first it knocks you down. Eventually you learn to expect the waves and you can lean in and keep your footing without drowning. It's almost five years since my loss and I have built a new life. I have expanded my social circle and have learned many new skills. And…much to my amazement…I have found love again and it is so sweet and rich. Mostly because now I have a thorough understanding of just what I lost and how incredibly precious life and love are.
We all know someone who suffers a loss. We don't always know how to help or what to say. May I suggest bookmarking this page and share it when appropriate? Share it with everyone you know because someone knows someone who is hurting. Let's make this the year we reach out to widows and widowers and offer them whatever comfort and support we can. ❤️
"Do not neglect to do good and to share what you have, for such sacrifices are pleasing to God."
‭‭Hebrews‬ ‭13:16‬ ‭ESV