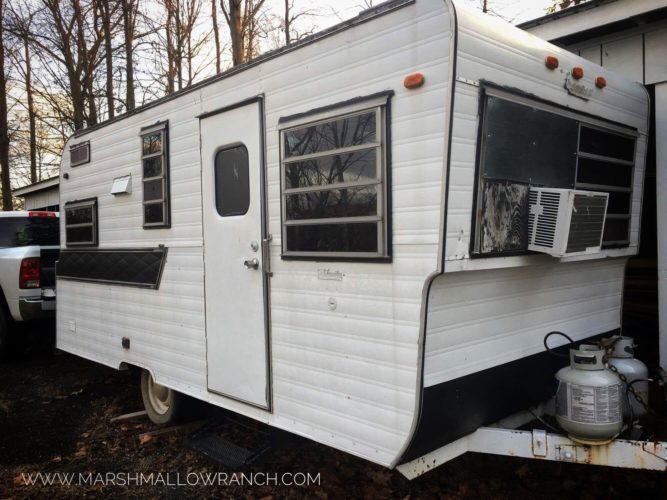 Those of you who have been here from the beginning know I really, really wanted a vintage camper when I started this adventure. I listened to Mr. Virgo's advice…posthumously…and bought a new camper. It was probably the right decision at the time because I lacked the necessary skills and stamina to deal with a camper that needed fixing up. Now though…now I'm good and really excited to start a new adventure. And this time I'm going vintage!!!
It's about a 40 minute drive into town from the farm along a twisty, turny two lane blacktop. I've driven it 1,000 times but about a week ago, a darling little two seater Mercedes convertible was sitting out in the field in front of a house. I spun around to get a second look. That was exactly the car Mr. Virgo dreamed of! Soon though, it wasn't the Mercedes that caught my eye. It was this baby…tucked in beside the house with a tarp over her head. My heart raced. I drove down the road and turned around and came back. I passed some folks leaving as I pulled in the drive. They backed up and asked if I was there to see the Mercedes. I said, "No…I just wanted to come see this little camper here. Is she for sale?" The lady said, "How much will you give me for her?" The gentleman was kind enough to get the key and show me inside. They had bought the camper to glamp it up for their daughter. All but the back end has been gutted. They ran into time constraints and they were about to get back to it when the mom broke her ankle. The next day is when I showed up. She was exactly my price. I can fix her up the way I want her, and I was an answer to their problem as well. It was definitely a God thing. I need this little girl right now. We are both spreading our wings.
I want to get her water tight and road worthy quickly. I'd love to take her with me to Colorado. Then I could work on her while I visit my family and have her ready when I go to the big Sisters on the Fly gathering called Rocky Mountain Hi in August! Then Girl Campers in September. Man, I'd have to really push to get that done but I might be able to! We'll see. I've wanted her for a long, long time. I just needed to find her.
Isn't it interesting that Mr. Virgo's favorite car would be out in front of a house with a tiny camper that needed a new home? There are no coincidences…I was guided there…without a doubt. She's a 1967 Franklin, a rather rare travel trailer. I'm going to decorate her inside in shabby chic white with pale green and pink. She's going to be a girly-girl camper. I'm so in love! ❤️
"Be joyful in hope, patient in affliction, faithful in prayer."
‭‭Romans‬ ‭12:12‬ ‭NIV‬‬