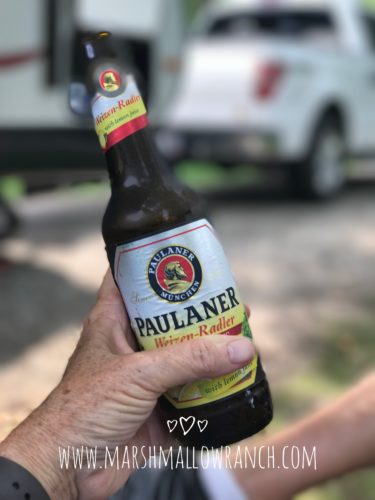 OMGosh! After camping two nights in parking lots, Grandpa's Farm Campground is just what the doctor ordered. Mr. FixIt and I were up at the crack of dawn and dragged our sorry butts into the IHOP for breakfast. Coffee, coffee, coffee. I slept maybe three pharmaceutically induced hours to the refrains of a hundred diesel engines idling all night. Ok, there were…like, twenty-five, ok? All I'm sayin' is…it sounded like the 10th Armored Division were on maneuvers in my living room. Have I ever mentioned I'm grumpy in the mornings if I don't sleep well and coffee is delayed by the briefest of moments? I thought not…I hate to tarnish my pristine reputation. Oy.
After breakfast, we sat down with the Atlas and the RV Campground Directory and figured out how long we wanted to drive today. It put us right in the vicinity of Richmond, IN…a very cute little burg. I was in Richmond when Daughter #1 graduated from college a few miles away in Oxford, Ohio at the Miami University. I stopped at this campground on my way out to Colorado this summer. It's the one I found on a Saturday night when I was contemplating how sorry I was that I'd miss church the next morning, only to find out they have Campground Church every Sunday. It's run by a lovely family. There is some road noise in the early evening, but it soon dies down after folks get home from work. There's also a rushing stream along the edge of the campground that you can hear at night. AAA got me a discount and a full hookup site was $32.50. As soon as I got everything hooked up, I turned on the hot water heater so we could enjoy hot showers for the first time in three days! Heavenly!
But, here's the very coolest thing….Mr. FixIt DROVE for me all but the first hour. We were tooling along and I just hadn't had enough sleep or enough coffee. We pulled into a service station, got my pillows and blankets out of the trailer, and I crawled into the passenger side and slept for two hours. When I woke up, I marveled at the decadence of having someone drive me around…pulling my camper with confidence, being just as careful of her as I am. It felt amazing…this giving over some control after having to do everything by myself for so long. The thing is, I kept hanging onto that control…long after I had a capable partner to help me. It was liberating in the totally opposite way of women's liberation. It felt inclusive, a communal effort. And I was in hog heaven!
We got to the campground by 3:00 which allows for so much more of an evening than midnight does. Mr. FixIt went for a walk while I wrote this post so we could just enjoy the evening without interruptions. We cooked a nice dinner and sat outside listening to the many sounds of the campground. What a precious treat this man is. Thank you God for safe travels. And thank You for bringing me such a wonderful man to enjoy! ❤️
"Sing to the LORD, all the earth; proclaim his salvation day after day. Declare his glory among the nations, his marvelous deeds among all peoples."
‭‭1 Chronicles‬ ‭16:23-24‬ ‭NIV