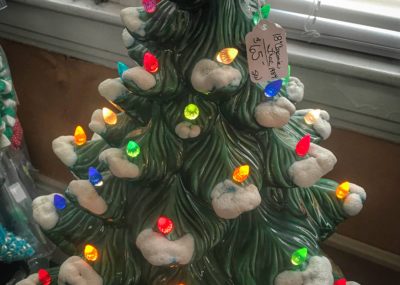 I have been on such a nostalgia kick lately! Here's one I know you all will remember and you probably had (still have!) one of these bad boys. My mom had one that she made in a ceramics class. As a matter of fact, I think I might have made one somewhere along the way. I seem to remember painting on the glaze that puffed up like snow and gluing the little ornaments in the holes. Wow…that's like opening the top of your head and reaching WAY back in the memory banks!
Mom got to the point where this was the extent of her holiday decorating. When Christmas was over, she dusted off the "tree", put a dry cleaning bag over it, and took it back upstairs to the attic till the next year. I found it up there after she died. It's one of the things I saved when I cleared out her house. And, unfortunately, it's one of the only things that broke during one of my many moves over the years. It made me so sad.
I was rummaging around in the upstairs of the cellar house the other day and ran across one of these in a box up there. I need to get it out and set it up on the dining room table. My aunt used to put it out when she lived there.
I was wandering around the mall yesterday and was thinking of more things we used to get at Christmas. Remember those round bath oil beads? They were jewel-toned, came in about four or five scents, and often were in a tube with a plastic crook on the end to look like a candy cane. You put on in your bath and the hot water would melt the gelatin bead and the oil would come out into the water. Only, who could resist picking it up and playing with it till it completely dissolved???
How about the Easy Bake Oven??? OMGosh! Do you remember how horrible that stuff tasted??? Yet, we ate it! There was Chatty Cathy, Betsy Wetsy, Tiny Tears. I always wanted one but never got one. I did get the bride doll that was as tall as me! And I had a Barbie. My Aunt Marge once traded eggs for a Barbie Doll dress that the neighbor made. I knew that was a big deal for her to do that and I took extra special care of that dress.
How about the socks with the toes in them? Or games like Operation or Chutes and Ladders or Candyland. I remember getting a set of Old Maid cards once.
One year, money must have been really tight. Mom ordered our Christmas presents from a catalog and they didn't come in time for Christmas. So on Christmas morning, mom gave us each an envelope with the pictures of what we were going to get when the box arrived. But then, when the box did come, Dad found out Mom had charged the items so he made her send them all back. We were so disappointed and to this day, it makes my heart ache for her. She had to have felt horrible that we didn't get a Christmas.
We moved into the house we grew up in over Christmas break when I was in second grade. The house and furnishings were our Christmas that year. I remember my Grandmother bought me a bedroom set. It was grey, very modern. It had a twin bed and a dresser that had a drop
Front that turned into a desk. Grandmother made curtains out of pink fabric with grey poodles on them. There was an old TV console in my bedroom and for some reason, she made a cover for that as well. I even had a black metal trash can with a poodle on it! My brothers room was decorated with a Cincinnati Reds theme. That was a grand Christmas!
I remember when I got old enough to babysit, I would go downtown to Kresge's and buy Mom a little bottle of Evening in Paris perfume or a chiffon scarf. She always acted as though that was the finest gift a mother could have wished for and it made me so proud. I loved wrapping the presents. As a matter of fact…when we got old enough, she would put our gifts in boxes and I'd wrap my own presents! I wrapped everyone's presents. It took all day on a Saturday. I'd sit on the floor in front of the TV and use up all the bows and the stickers and the gift tags and have a big time. Then I'd pile everything under the tree. We didn't have a lot. But we had enough. ❤️
""Honor your father and your mother, so that you may live long in the land the Lord your God is giving you."
‭‭Exodus‬ ‭20:12‬ ‭NIV‬‬