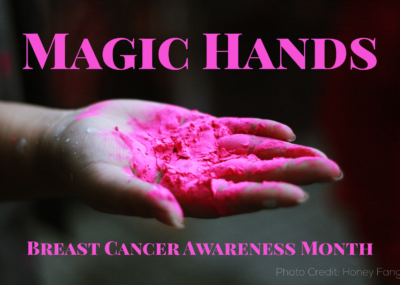 October is Breast Cancer Awareness Month. I have always been prompt at getting my mammogram done every single year. I always had it at the same place for consistency. Still, even though it always niggled in the back of my mind that time was slipping by, I went a full three years without one. The fact that I am fairly diligent in doing breast self examination regularly was at least some consolation. But not all lumps and bumps can be felt. An exam and getting the tatas compressed is your best advantage for early detection of breast cancer.
I had my mammogram done September 27th, a Saturday. I was up before dawn to go get this thing done. I was in and out relatively quickly. The technologist was friendly, knowledgeable, and the entire experience left me feeling confident in the Women's Center at Camden Clark Memorial Hospital in Parkersburg. I left the appointment and met my girlfriends for coffee and it became a day like any other day.
The following Wednesday, I went camping for a week and when I returned, there was a message on my home phone from the doctor's office. Mr. FixIt and I looked at each other and I saw the slightest flicker of fear in his eyes.
"I'm sure it's fine, sweetheart. I'm a girl…girls are complicated. We've got all these parts we have to maintain. It happens all the time." I said in my most reassuring voice. But he wasn't buying it. And neither was I. I'd never been called back before. And I'd never had an ultrasound of my breast.
My doctor's office made an appointment for me for the following Tuesday…a whole week away. As much as I tried not to think about what it could mean, it was fruitless. I've worked in medicine almost my entire working life. I was married to a doctor who was the director of hospice. I was an x-ray tech. I know what I know. I ran through the risk factors. I used to drink more than I should have when I was going through a particularly difficult marriage/divorce but when the divorce was over, so was the drinking. I am not at my ideal weight and I don't exercise as much as I should. The king sized plus for me is absolutely zero family history of breast cancer. By the time the appointment came around, I was feeling pretty confident this wasn't cancer.
Tuesday finally came. The technician who came out to get me was the same gal who did the first mammo. That was comforting…and good, in that her technique would be the same for comparison's sake. She told me there were two places in the breast that caused them concern and she pointed them out to me. She proceeded to do another mammogram. This one used a compression paddle on the machine that squeezed a small, three inch circle…really squeezed. I won't lie…it stung. No problem holding my breath for that one! When she had the top down views done, she changed the paddle to a five inch circle for the side views. Again, the compression took my breath away, but I wanted good compression so the radiologist could see what he/she was looking for. It was soon done and I was ushered to a waiting room. Once the radiologist said no more views were needed, I was taken to the ultrasound room.
I've had ultrasounds many times, but never of my breast. They warm the gel! How nice! I'm laying there with my arm over my head and my boob hanging out in front of someone who was born the year I graduated from high school but, by golly, that gel was warm! The tech turned the screen slightly toward me and I saw what I had seen on the mammogram, only instead of being an oval, clearly encapsulated thing that looked much like a grape…I saw a black hole. My heart sank for a moment. Then my medical expertise came back and I thought about the physics of ultrasound. I soon reasoned what I was looking at was a fluid filled cyst and the vast majority of those are benign. Breathe.
The tech moved to the other spot. This was more worrisome. It was calcification within some very dense breast tissue. I have what used to be called fibrocystic breast disease till they dropped the disease part, because…it isn't one. It's extremely common. The last time I had a mammogram, my doctor was musing to herself. "Hmmmm, I wonder why your left breast is so much denser than the right?" "Easy," I said. "I've always been with right handed men" I think she peed a little. Anyway, I digress. I couldn't make heads nor tails of what I was seeing in this exam area so I just laid back and let my mind wander. What was my gut saying? "This is ok. Don't worry."
I was wandering through the mall yesterday, contemplating a pair of shoes, when the doctor's office called. She said the doctor felt the findings were benign. They wanted to know if there was a family history of breast cancer. Since there is not, the recommendation is to repeat it in six months and if there are no changes, resume the yearly schedule. I didn't realize I had been holding my breath as I sat down on one of the chairs in the shoe department. I thanked her and hung up. Relief spread over me and I immediately texted Mr. FixIt and my Prayer Warriors.
One out of eight women get breast cancer. Unlike Julia Louise Dreyfus…today it was not me. Get your mammograms, girls. Save the tatas! ❤️
"A joyful heart is good medicine, but a crushed spirit dries up the bones."
‭‭Proverbs‬ ‭17:22‬ ‭ESV‬‬