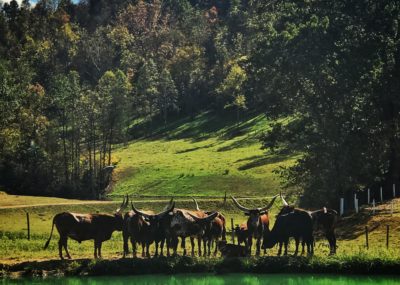 It's going to rain today…thank God. We haven't had measurable precipitation in a month and its dreadfully dry. Since yesterday was such a gorgeous day, chores were put on the back burner yet again and we went gallivanting all over three counties. Our first stop was to finally get some pictures of these magnificent long horned cattle. Seems there's a wealthy oil man in our county who likes them so he bought himself some. I believe these are a cross between longhorn and the watusi. I must say, you do a double take when you drive down a two-lane blacktop in West Virginia and come across these big boys! I had an uncle who had white-faced cattle simply because he liked looking at them through the window when he ate breakfast…so, I get it.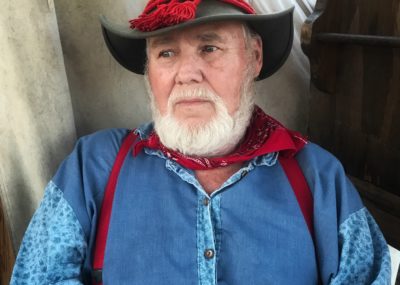 The next stop was Elizabeth's Pioneer Day. That's singular…as in, blink and you miss it. We ran into cousins. Did I tell you I love small town life? We missed the car show but we visited the town's museum where my cousin regaled me with more juicy family history that I was, as yet, unaware of. I love hanging with them…not only are they fun, but they're educational.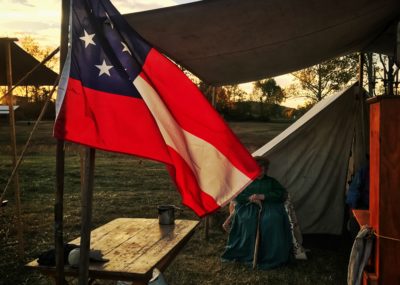 The last stop was really awesome. As we rounded a curve to head back to the farm, there was a Civil War reenactment camp set up in a field. Mr. FixIt turned to me and smiled. Blog fodder! We turned in and introduced ourselves and an hour later we were making ourselves at home, telling stories and laughing around the campfire. Mr. Virgo was a huge Civil War buff so I've watched dozens of documentaries on the subject. I felt a softness around me as the sun hung low over what will today become a battlefield. That part I have no interest in seeing. But the people? I wanted to know who they were, how long they've done this, how often, and why? Turns out, they're Civil War buffs, just like Mr. Virgo. One couple have been doing reenactments for 29 years. They were from Ohio and West Virginia. Some represented the Union, others the Confederacy. I didn't ask why. It didn't matter.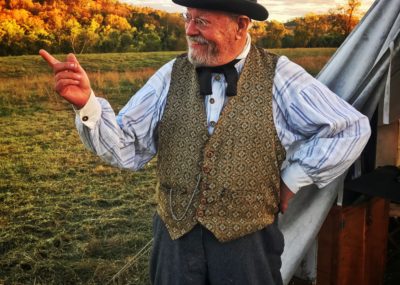 They were quick to share their knowledge. They took great pride in their clothing and uniforms and weapons…and knowledge. They explained the flags and the units and the differences in the tents. They cooked over an open fire, just as I did last weekend. They slept on rope beds and bedrolls the last two nights. They had young men and a young boy with them, teaching them the old ways. It was absolutely fascinating. And, instead of scrawling a rural address with a hand sharpened pencil on a page from a bible to be tucked away, hoping to reconnect when the battle was over…we became friends on Facebook. And, we were instantly brought back to 2017.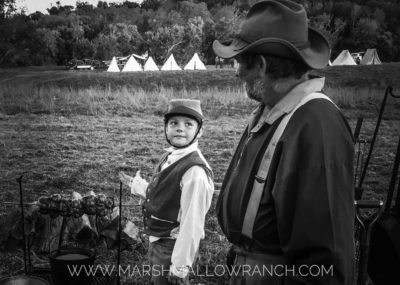 I love the connections I make doing what I do. I was thrilled when I surpassed 6,000 readers over the weekend. I'm honored and humbled to write stories for you every day. Thank you so much for being here. ❤️
"a time to love, and a time to hate; a time for war, and a time for peace."
‭‭Ecclesiastes‬ ‭3:8‬ ‭ESV‬‬