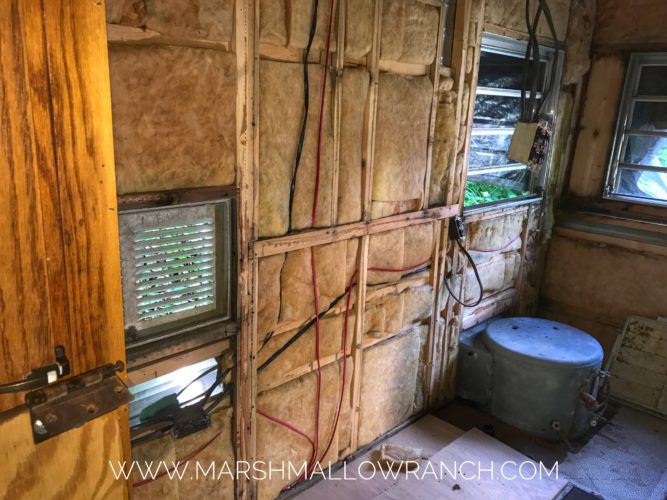 Oh…I almost hate to show you what I've gotten myself into. Y'all are gonna sit there and roll your eyes and shake your heads. As with most projects, the more you tear into it, the more you find needs doing. Thank goodness my friend, Mr. Fix-It, is willing to help me with the heavy stuff. We cleaned everything out of her today so we could get a good look at the job ahead. We started by making a list of what needs doing and setting priorities. First off was the realization there is no earthly way of getting this thing done before I leave for Colorado next month. Not and do it right anyway. Sigh.
First off, there are several wooden ceiling joists that have rotted through and need to be removed and custom cut to the curvature of the roofline. Once those are tied into the frame, the roof needs to be completely removed, a new underlayment placed, new wiring and insulation, then a new roof placed on. Once the roof is done, the windows come out and any rotten wood replaced. The windows will be sandblasted and glass replaced then the windows go back in with caulking. There are some cabinets that need to be removed. Also the bunk in the back comes out. Then the floor gets touched up and mended. Once the wiring and the insulation in the walls is replaced, paneling goes in making it an open room. There will be a double bed on a platform in the back. I will find used furniture to convert into a cabinet/kitchen/workspace. I don't necessarily want a gas stove in this camper but there is one so but we'll see. A small convection microwave and an electric convection hot plate would be fine. I might have a small refrigerator…not sure. I want a closet with a luggable loo and up front I'd like a couple of comfy chairs and a small table between them. Very simple inside. I just need a cozy place to sleep out of the rain.
I know she looks like a ton of work, but I'm in a place right now where I love a challenge and I need another joyful thing to look forward to. So…I have named her "Oh, Be Joyful!" I'll call her "Joy" for short. My challenge for myself is to find as much stuff as possible free to fix her up with. I love the idea of salvaging and putting as little money in her as I can while still making certain she is roadworthy. This is indeed going to be a joyful experience!
I went to church last night and the pastor preached on Exodus. He pointed out that even though the Israelites were freed from slavery, they were still in bondage because they looked backwards at the chariots full of Egyptians bearing down one them. In order to break free from the bondage you are in, you have to have faith and move forward. I am weary of watching for chariots carrying grief. I'm moving forward…with "Joy"! Isn't that a beautiful thing? ❤️
"For in the day of trouble he will keep me safe in his dwelling; he will hide me in the shelter of his sacred tent and set me high upon a rock. Then my head will be exalted above the enemies who surround me; at his sacred tent I will sacrifice with shouts of joy; I will sing and make music to the LORD. Hear my voice when I call, LORD; be merciful to me and answer me."
‭‭Psalm‬ ‭27:5-7‬ ‭NIV‬‬