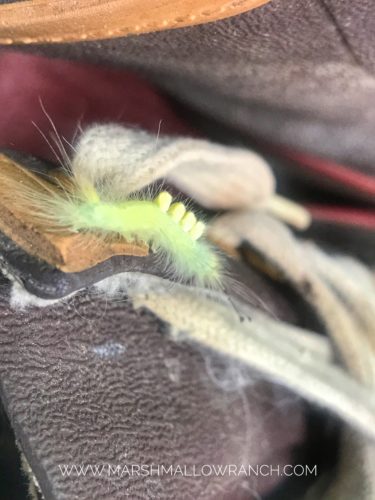 The life I led before becoming a widow fell away from me on March 12, 2013. I was a beautiful caterpillar before that day…pretty, perfect, moving from meal to meal mindlessly. Oh, it didn't seem mindless at the time. I was full of energy and purpose and life and love. But the day Mr. Virgo died, the "ME" I was left for good. I tried for a long time to get her back. In my naïveté, I thought it was somehow possible to get over all this and get back to the business of living my life as a caterpillar. After a while, I finally got it…that part of my life was over.
I went into my cocoon, that dark space where I worked on what was inside somehow trusting the outside would follow. And eventually, after lots of prayer and time and travel and mistakes, I finally emerged…changed, to be sure. But with wings! Wings that have carried me to new heights. To new places. To new life, new love, new friends, new peace.
As I sat on the front porch yesterday, this little yellow caterpillar crawled up on an old pair of boots I have sitting on a table outside Grandma's front window. I watched it explore this inanimate object in search of food. It's a beautiful thing…soon to become a tussock moth. I contemplated all the varieties of caterpillars there are in the world. They are different for a reason. They are meant to become a moth or a butterfly…whether a short, stubby, nondescript gypsy moth or a magnificent luna moth, a tiny Karner Blue or a Monarch or a Swallowtail…they will all have wings and fulfill their destinies.
Widows are the butterflies of love and loss…we transform through a period of darkness, stillness encased in a hard shell, a chrysalis, a crucible of change. When our time comes and we are ready, we start to grow. Our comfortable shell, that place that helped protect us from the world, begins to feel too tight, too constricting. In the time before we break through to our new life, this one begins to feel quite painful. It is in that moment we think we can't do this anymore. It's just too much. We've endured so much pain, so much discomfort. Now, here we are going through it again. Unlike the caterpillar, we have a choice to make here. Stay in this dark place forever or emerge into the world of the unknown, fresh and new, yet forever changed.
What we have the hardest time seeing in that dark place is the beauty of the life beyond. If we can just drag ourselves out on the limb, hang on by tips of our fingers, and trust God to work on our hearts, life blood pumps into our wings and they begin to expand and dry. For a while we sit there, in disbelief. We flex our wings…our beautiful, multicolored wings…and in a glorious moment of magic, we fly!
There is a certain ambivalence between sorrow and healing. What starts out as a line as thick and strong as a ship's anchor chain, time and healing stretches that connection to our loved one out into a thinner and finer cord. Still strong, but lighter. If you cut that cord that ties you, are you unfaithful to the memory of your lost love? Have you turned your back on what that relationship meant to you? Are you betraying your life partner if you choose to step out into the sun? I don't believe so. Spreading my wings and flying is exactly what my love would want, would expect, me to do. I'll never forget my days as a caterpillar but I'm choosing to move forward, to live my life as a glorious butterfly. To really own that. I choose to fly. ❤️
"The LORD our God said to us at Horeb, "You have stayed long enough at this mountain."
‭‭Deuteronomy‬ ‭1:6‬ ‭NIV‬‬