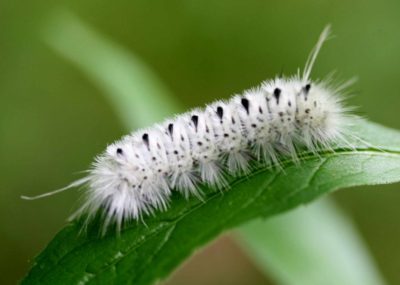 When my youngest was little, there were certain words she had trouble pronouncing. Me being a wordy, I had to correct her. We once were in the sewing center. She was crawling around and pulled herself up on the chair and babbled something. I asked her to slow down and enunciate so I could understand her. And she did. We never spoke baby talk to her. She would have called this a "capetiller". There were mazagines" and "hopistol". "Ambliance" and "swanich". These are wonderful memories.
This particular "capetiller" was rummaging around in the leaves by the campfire at Beaver Creek State Park yesterday morning. It's one of those that can leave you with an itchy rash much like poison ivy so it's best to leave them alone. There are several caterpillars that sting and irritate the skin so you should wear gardening gloves when picking up leaves this time of year.
The drive home from camping was uneventful. It was getting dark by the time we hit Parkersburg so we took the camper over to Mr. FixIt's house and we'll clean it out today. I emptied the tanks and the clean water reservoir. Now we can winterize it.
I'm truly looking forward to some down time. It will give me time to reflect on the wonderful people I've met, the beautiful sites I have seen, and the wonderful times I have shared with family and friends and especially with Mr. FixIt. I am so blessed. ❤️
"and your spoil is gathered as the caterpillar gathers; as locusts leap, it is leapt upon."
‭‭Isaiah‬ ‭33:4‬ ‭ESV‬‬