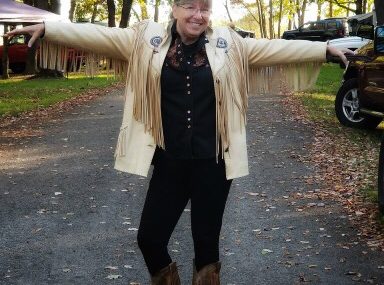 Much of my life was spent trying to conform…to not be too loud, too big, too much. To fit into the mold of who I (and others whose opinions I valued over my own) thought I should be. I was a doctor's wife. I was supposed to fit in, entertain, volunteer. I converted to Judaism. I smiled, a lot. I had a perky voice. I did the best I could. And still, things unraveled, my marriage fell apart, and it darned near killed me.
It took a long time, and a lot of therapy, to find my voice. So many times women hang their identity on a hook by the front door and become who they need to be…who they're expected to be. I have two beautiful daughters who are wonderful adults. Honestly, I don't know how they survived me because I was a hot mess back in the day.
Mr. Virgo was the first man to really "get" me. He was patient and listened intently and fiercely supported me. He helped me see, and really FEEL, my value. When he died suddenly, my world and my self-confidence was rocked. When I was alone on my grief journey in the wilderness and backroads of Colorado in the first few months after he died, I really understood for the first time that it's up to me to be happy. If we search for happiness from external things, we will always be disappointed.
I had a Mr. Virgo-sized hole in my heart and a God-sized hole in my life. I couldn't bring Mr. Virgo back, but I could…and DID…reach out to God to fill me up with a peace only He could give. My go-to scripture became "I can do all things through Christ who strengthens me." Over and over, through long anxiety-riddled nights, I repeated it till I believed it…till I felt it in my bones. And magically, God filled in the empty, hurting places with a golden love-light like none I had ever known.
I was telling someone yesterday…I loved Mr. Virgo with the white-hot heat of the sun. But I still never felt whole till I loved GOD with the white-hot heat of HIS Son. My light shines from within. I carry myself differently. I'm happy and content with myself and my life. And now? Now I have Mr. FixIt. I'm so glad he came into my life after I was broken open. I don't know that we would have appreciated each other if this would have happened at any other time in our lives.
God's timing is so perfect. ❤️
"Are not five sparrows sold for two pennies? And not one of them is forgotten before God. Why, even the hairs of your head are all numbered. Fear not; you are of more value than many sparrows."
‭‭Luke‬ ‭12:6-7‬ ‭ESV‬‬