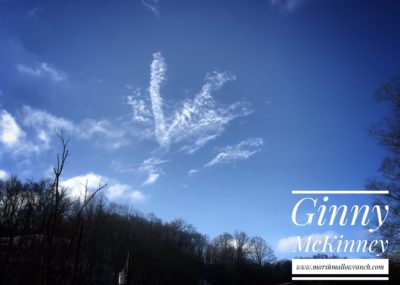 The sun! Ok, it was out for less than fifteen minutes at the farm today…but, oh! What a divine fifteen minutes that was!!! Ok, that is what is the hardest thing about living in the Mid-Ohio Valley as opposed to the Roaring Fork Valley. There is far less sunshine here. The sky stays grey for weeks at a time. When the snow finally comes, it stays till we can get a welcome respite of sunshine and warmth like yesterday, today, and tomorrow. Tomorrow is predicted to get up to 63 degrees! I will take that any day over the bitter, frigid weather we've had for the last few weeks.
I know…you've heard me state before that I would never spend another winter in the cold and snow. Well, never say never, right? A year ago, I didn't know I would be where I am in this wonderful relationship. I had a fair idea which direction it was going, but a year is a year and one never knows for sure what might happen. I've learned not to look too far into the future since losing Mr. Virgo. Other than…this is where I want to be and who I want to be with. That's enough for me.
This winter isn't going like we thought it would when we made our travel plans last summer. First, Mr. FixIt had surgery on his hand and it turned out to be a much bigger deal than we thought it would be so that nixed not only the trip to Colorado at Christmas, but also the two month camping trip we had planned in Florida for February and March. He has hand therapy to go through now and there is still much he cannot do for himself. We've decided this is an excellent time to go through closets and boxes of stuff at his house and do a little downsizing. I have a great deal of experience in that department and I am happy as a clam to help out.
In my effort to stay present this year, I'm going to go out today and tomorrow and enjoy every moment of warmth I can possible soak up. I hope you are getting a respite from winter in your neck of the woods. I am also keeping the people of Southern California in my prayers as they struggle with the inevitable mudslides that follow devastating fires. I've personally seen the effects of that in Glenwood Springs after the Storm King and Coal Seam fires. I saw on the news last night where they rescued a teenager from the basement of her home. She was nearly encased in mud. It was unbelievable. She had to have been terrified. My heart goes out to everyone affected by this disaster. ❤️
"…Get up and pray…"
‭‭Luke‬ ‭22:46‬ ‭NIV‬‬