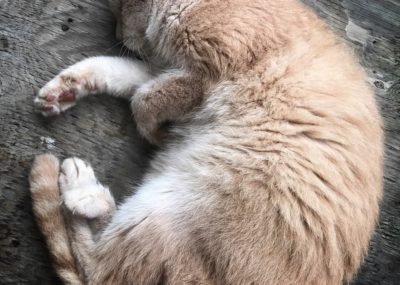 We awoke to the sound of rain gently falling on the tin roof yesterday. What a welcome sound. Something else grabbed my attention. It was stuffy and still in the bedroom. I picked up my phone to check the temperature. No wifi. The power was out so the fan was off. This happens frequently here at the farm. I keep thinking I'll get a generator but haven't yet.
Old Mama Kitty curled up at my feet while I sat on the porch, watching the rain. Every time we have this moment, I wonder how much longer we'll have her. She's about twenty-four years old now. I love this sweet little kitty.
The persistent rain made me sleepy and I couldn't get motivated to do much. I did put about half the stuff away in the kitchen that I had brought in from TOW-Wanda. The rest of the day was literally spent doing as little as possible. Sometimes you just need a day like that. Mr. FixIt is like the Energizer bunny. He never stops. I like to do a lot of stuff but when I need down time, I NEED down time. I sent him off to deliver a chair to his granddaughter and go bowling and I spent the afternoon/evening laying low. Just what the doctor ordered!
The only downside of having a lay low, shut in kind of day was not going to church. The only upside to that is the Warehouse Church where we attend goes live on their Facebook page every Sunday night at 7:00 so if I can't go for some reason, I can watch the sermon from home.
Last night, Pastor Justin spoke on getting past your past. I dragged my past behind me like a sack of rotting garbage for years. I played and replayed every mistake, every misstep, every wrongdoing I ever did and berated myself for being a bad daughter, sister, wife, mother. It turns out, those were all lies…whispered into my life by the enemy. He has no power over the future, but man…does he know how to play the past. There are ways you can use the past. Learning from your mistakes and moving forward, letting the past "push" you into the person God has always intended you to be…THAT'S the only useful thing the past can give you. God uses those mistakes you made in the past to allow you to minister to others, to speak life over them, to demonstrate that you do not have to let your past define who you are. You can get past it. Powerful message. So, I got my lay low day, I had a nap under the sounds of a gentle rain on a tin roof, AND I heard a great message from God. What's not to love about that? ❤️
"Brothers, I do not consider that I have made it my own. But one thing I do: forgetting what lies behind and straining forward to what lies ahead, I press on toward the goal for the prize of the upward call of God in Christ Jesus."
‭‭Philippians‬ ‭3:13-14‬ ‭ESV‬‬