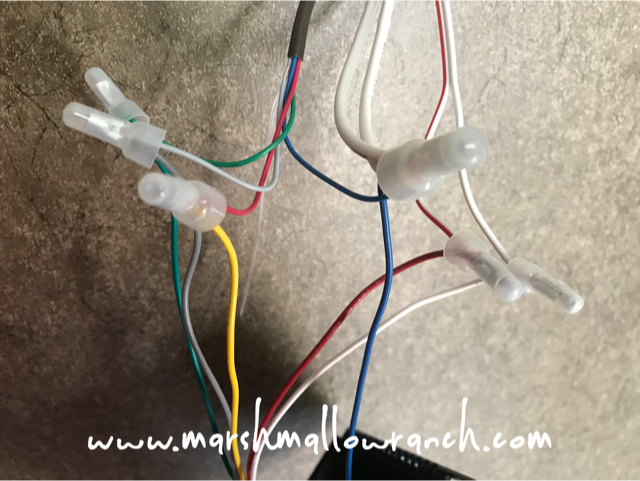 "Eula Faye" is my F-150…a beauty for sure, but she lacks guts. As I figured, climbing these mountains pulling TOW-Wanda was brutal and pushed her to her limits. I watched fearfully as the transmission temperature steadily climbed, maxing out at 232 degree. I immediately moved off the side of the highway and let her cool back down to her baseline of 194 before starting again. Consequently, it was a very long drive to our campsite on the Western Slope. It was 94 degrees when we unhooked at 3:00. I went in to start the air conditioner to start cooling off the camper when It wouldn't work…again. It just so happens, we are camping 27 miles from the RV dealer where I bought this camper so I immediately called to see if they were open. We drove straight over and arrived 15 minutes before closing time. We took the old thermostat with us and they ordered us the replacement part. It will arrive by noon today.
I don't like to say bad things about a business because they could just be having an off day or maybe here was a miscommunication. As we left town yesterday, we stopped at Camping World to get a replacement thermostat as they are a Starcraft Dealer. There were three men behind the parts counter and I got three different answers. The general consensus was the part is obsolete. I couldn't imagine that to be true as this is a 2015 camper. The young guy went back in the back and brought a thermostat us and said, "This will work." I looked at the thermostat and back at him. My thermostat has a six wire harness. The one he brought up was nine. When I pointed this out he said, "Just don't hook up three of them." Right. I ignored him and turned to the one closest to me who was at least tying to help me by looking up the actual part number. Then he told me it wasn't in his computer so it must be obsolete. I asked him if the company who manufactured the thermostat had a replacement part number. He had no idea how to contact them. Finally, I excused myself, spent fifteen minutes researching on Google and found the approved replacement thermostat from RVUpgrades.com. I did buy two padded club chairs that are much more comfortable than the ones I bought last winter. Then I left.
Hopefully the new part from the dealer on the Western Slope will work and we'll have the AC back. Fortunately, the temperature cooled off enough to made sleeping more comfortable, and it is supposed to cool off later in the week.
We took my brother to dinner last night. It was so, so good to see him! We'll visit again today. I know this isn't a profound and insightful post. My trip posts are just there to let you know what I'm up to, places I think you might be interested in, and the wonderful people I meet along the way. Like Rick…the helpful hardware man at Ace. Rick has been following Marshmallow Ranch for at least two years. When I pulled into the neighborhood Ace store yesterday to top off my propane tanks, Rick came out to help me and greet me with a great big hug! He was so excited to meet Mr. FixIt. We stood and visited for quite some time. When I came back out from paying for the propane, he asked if he could pray with us for safety for our trip and blessings for our relationship. I went to the truck and got Mr. Fixit and we stood right there in the parking lot of the Ace Hardware and prayed together. It was very touching. So, even though the truck struggled, even though the AC wouldn't work, even though it was hot and sticky trying to sleep…I let it all roll off me like water off a duck's back. Blessings abound! ❤️
"For where two or three gather in my name, there am I with them.""
‭‭Matthew‬ ‭18:20‬ ‭NIV‬‬