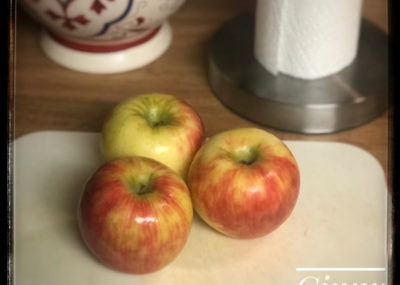 Yesterday was International Pie Day. Ooooooh…that one blew right by me till we were watching the news last night (yes, I actually watched the news but just this once. I was updating my computer and got caught by surprise. *sigh*) There was one of those inevitable human interest stories that told us about the annual celebration of my all time favorite dessert…PIE! I used to bake competitively and was known as The Pie Queen in my little valley in Colorado. Those were the halcyon days of my youth, teaching people the intricacies of a proper pie crust. These days, Mr. Pillsbury and I make our pies with that fabulous ready made crust that you unroll, fill and bake. Voila! Instant dessert!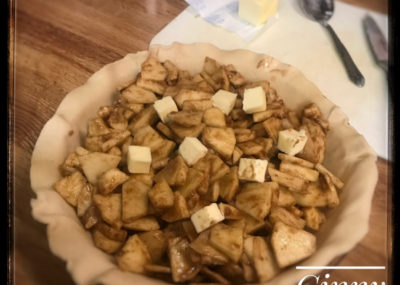 Mr. FixIt and I looked at each other. It was 6:00. Still time for pie! I rummaged around in the fridge and found three apples. I still had two rolls of crust left over from the last dinner party we had. Cored, peeled, sliced, with half a lemon squeezed over it…added a couple tablespoons of that wonderful Splenda Brown Sugar blend, three tablespoons of flour, a few good shakes of apple pie spice and a tiny splash of vanilla…and mixed it well. I poured that in the bottom crust, dotted it with a couple teaspoons of butter, topped it with the second crust, slit the top and crimped the edges together. Baked at 375 for about 50 minutes and yummmmmmm…I love apple pie!
As we were enjoying dessert, my plan was to head to the back of the house to write my post as I usually do. But Mr. FixIt was scanning through the shows he had recorded on the DVR. "The Story of God by Morgan Freeman?" he asked. Oh…yes please. How can you go wrong with God AND Morgan Freeman, right? I have always been fascinated with religions and the faith of all people. There were some things in the show that didn't mesh with my interpretation of my faith, but it's a very personal thing to each individual. I really enjoyed his interviews. We watched three episodes and saved the other two for tonight night. I don't mind watching TV as much if it's something educational,  or a singing competition, or has Morgan Freeman in it!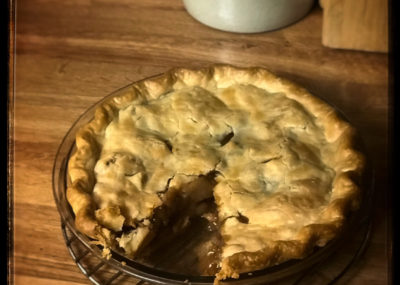 In the first episode, the subject of life after death was discussed and what different faiths believe happens to us when we die. Christians live with the belief we will see our loved ones again in Heaven. I don't know that it lessens the sting of loss, but eventually it was something that offered me some comfort. I think the idea that my loved ones got to see Jesus already is what gives me the most comfort. And…that brings me to the significance of today.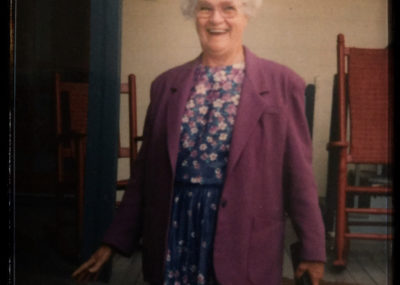 Today is my mom's angelversary. She has been gone fourteen years. I miss her as much now as I did the day she left us so unexpectedly. I was frustrated with her that week. She wasn't well. Her breathing was rapid. I did not know that she hadn't eaten or drank anything for five days. I have kicked myself a million times for not calling an ambulance myself to take her to the hospital but she refused to go. I was living in Colorado. She was here in West Virginia. I can hide behind the excuse "there was nothing I could do", but I should have. I should have just called and dealt with her being upset with me. I was mad at her because she refused to come to Colorado where there was excellent health care. I vented my frustration in the very last phone call I had with her. In the middle of the conversation, as I felt my temper start to rise, the Holy Spirit took hold of me and literally shook me. "Wake up! Wake up! This could be your last conversation!" And, it was. I am SO grateful for that I controlled my tongue for once. I told her I understood why she couldn't come to Colorado. I understood why she didn't want to leave her home. I mean…I didn't at the time. But I told her that. And I told her how much I dearly loved her. I told her to just focus on getting well, that I would take care of everything. I told her I would be on a plane the next day and would be there by nightfall. She told me I couldn't imagine what that meant to her…telling her I understood. It wasn't that she didn't want to be with me or that she didn't think I knew what I was talking about. She was just tired. Sick and tired. More sick and tired than she admitted to me, or I might have been more forceful. As it was, she was gone by 4:00 the next morning.
I've forgiven myself for failing to make the call. I've forgiven myself for speaking to her in harsh tones. It's been a long time since I shed tears for my mom, but I did as I wrote this post. My only consolation is she knew I loved her…and we will meet again someday. Until then…oh, I miss my mom. ❤️
"Praise be to the God and Father of our Lord Jesus Christ, the Father of compassion and the God of all comfort, who comforts us in all our troubles, so that we can comfort those in any trouble with the comfort we ourselves receive from God."
‭‭2 Corinthians‬ ‭1:3-4‬ ‭NIV‬‬