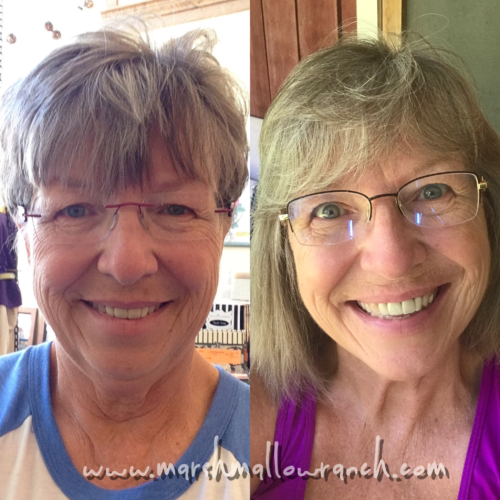 If you are grieving, please know there is hope…for healing, for brighter days, for joy. Those of us who have walked this particular journey know full well the feelings of hopelessness that come in the dark of night. We know how hard it is to find the motivation to do the simplest of everyday tasks like personal grooming, cleaning house, cooking. Preparing a meal becomes Herculean. Brushing your teeth is as daunting as climbing Everest. Balancing your checkbook is something you did in a former life…you know, that time back in the day when your brain functioned as it should.
When you are slogging through the midst of this madness called grief, it is easy to lose hope that things will ever get better. After all, how could they without your special person? I know, when I lost Mr. Virgo, my world came crashing in at my feet and I swore I would never feel anything but the crushing pain of loss. I was so tired, so depressed, so angry, so fearful. In the picture on the left, my eyes were puffy from crying all the time. I didn't sleep. I didn't eat right. I didn't exercise. It was all I could do to breathe…and I didn't even do that very well. Do you remember what it felt like to not be able to take in a deep breath? I sighed..a lot. That's actually a physiological response to grief.
I was a Christian before I lost Mr. Virgo. One of the "hidden gems in the flames" of grief has been a closer relationship with God. That depth of love has brought me through the darkest days of my life. I cannot imagine how I could have possibly survived this without my faith. There were long nights where sleep simply would not come and anxiety would have me paralyzed and physically ill. I tried everything to make it stop. There were nights I thought about the gun in the cupboard. About how easy it would be to just end this suffering. But…I simply could not do that. After having suffered a near-fatal overdose during a severe depression seventeen years ago, and seeing the devastation that caused my family, I knew full well that would never be my way out. No, somehow I had to find a way to get through this.
I remember nights when I couldn't pray. I couldn't form words. All I could do was moan in pain. I would close my eyes and visualize Jesus. I would picture him sitting on a bench in a beautiful garden…his robes as white as snow, his dusty sandals strapped to his road-worn feet. I couldn't speak before him. All I could do was moan…my pain escaping from my throat in guttural gasps. And when I would look at him, he showed me such compassion. He held his arms out to welcome me into his presence. I walked forward and collapsed at his feet and laid my head upon his knee and sobbed. And he would gently stroke my hair and console me. He loved me as a father…as a brother. He poured his mighty love and light over me and washed away the pain for that particular night with the sincere promise that I could come back any time for more. He is always there…my comforter, my rock. And now look…he poured SO much love and light into me, it flows outward. I finally fully understand the phrase, "My cup runneth over."
If I bring you anything with my words, let me bring you hope. Hope for brighter days. Hope for sleep-filled nights. Hope for healing. Hope for joy. I couldn't have done this alone. I have my writing. I have you all. I have the love of friends and family. And I have Jesus. Jesus makes me shine. He most definitely makes me shine. Ok…Rodan & Fields skincare helps, too…but it's mostly Jesus! ❤️
"In the same way, the Spirit helps us in our weakness. We do not know what we ought to pray for, but the Spirit himself intercedes for us through wordless groans. And he who searches our hearts knows the mind of the Spirit, because the Spirit intercedes for God's people in accordance with the will of God."
‭‭Romans‬ ‭8:26-27‬ ‭NIV‬‬
#RFGoNaked